Romain Dumas didn't take long to set a new record on the 12.42-mile Colorado hill climb – but it felt like an age for his team



Pikes Peak 2018: Volkswagen ID R Pikes Peak




Romain Dumas in qualifying at Pikes Peak




The Volkswagen ID R Pikes Peak was fastest in qualifying by some margin




Romain Dumas in action on Pikes Peak
Autocar digital editor James Attwood will be providing updates throughout the 2018 Pikes Peak International Hill Climb. Check back here during the weekend for insights.
Sunday June 24: When eight minutes can feel like a very long time
It went past in a flash and a whoosh, a fully charged four-wheeled missile going faster than your brain could comprehend. So fast, in fact, that it took a few seconds for the spectators lining the fence just past the start of the Pikes Peak International Hill Climb start line to react.
Eventually, they did. One yelled 'yee haw.' Another swore. Loudly.
And then the wait began.
One problem with Pikes Peak is that the very things that make the event so special also make it a logistical challenge. The start line is 9390ft up a mountain; the finish way up at 14,115ft. There aren't many permanent facilities in place at such altitudes, phone signal is patchy at best, and the atmosphere and weather can play havoc with signals.
And so, once Romain Dumas and the Volkswagen ID R Pikes Peak had disappeared from view, it was hard to chart their progress up the 156-turns and 12.42 miles of the course. A livestream video was patchy at best, the radio commentary chipped in where they could, but they could hardly cover the full mountain.
Having run back to the paddock, you gleaned fragments of information here and there: Dumas was doing 136mph when he went through the flying start, and there was occasional word that his pace up the mountain did, indeed, threaten Sebastien Loeb's outright record from 2013. But all you could do was wait.
It was all the Volkswagen Motorsport team could do as well. They crowded around the same television screens in the pits as other teams and fans, watching the same timing screen and the same patchy livestream, waiting with the same eager anticipation.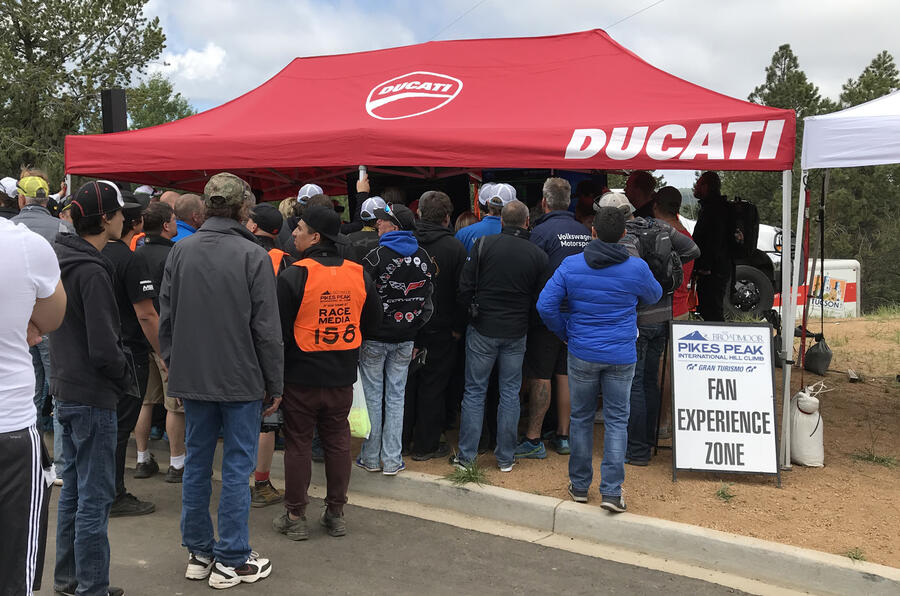 Then, suddenly, there was news. Several thousand feet above the pits, Dumas flashed across the finish line, and his time pinged up on a timing screen.
7min 57.148secs.
As the radio commentators reacted with a mixture of shock and awe, so did the team. So did everyone watching. Volkswagen had come to break Pikes Peak's electric record. They did that – and smashed the overall mark to boot.
The celebrations began. The champagne flowed. Celebratory T-shirts, complete with blank spaces to write the finish time in on, were handed out.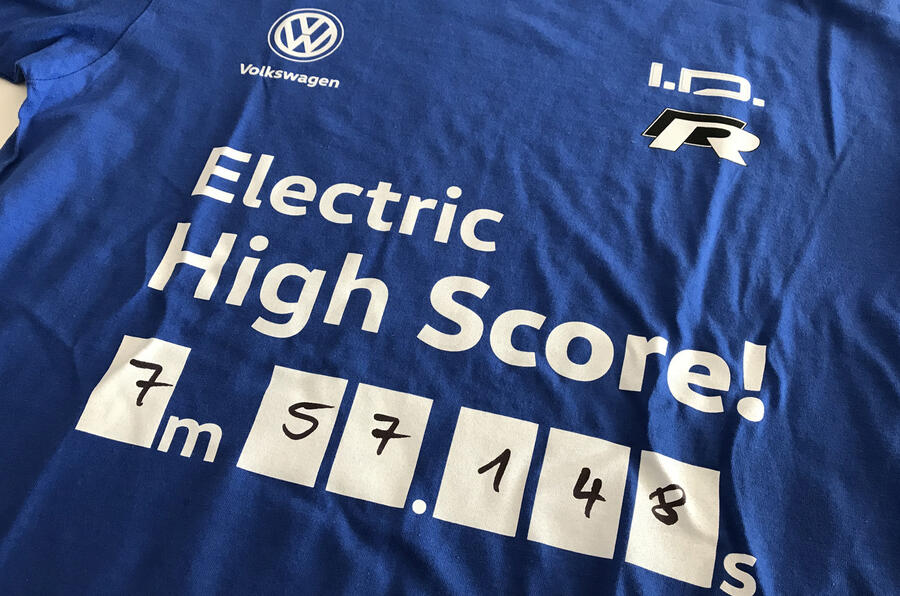 After the celebrations began to subside, Volkswagen Motorsport boss Sven Smeets was asked about the wait, about what it felt like to have invested so much time into a project, and yet have no idea how it was going.
"This was a little bit like two people are fighting for the World Rally Championship going into the last stage and then suddenly you have no splits anymore," he said. "It's that feeling.
"It was a very, very long eight minutes – and eight minutes is actually nothing."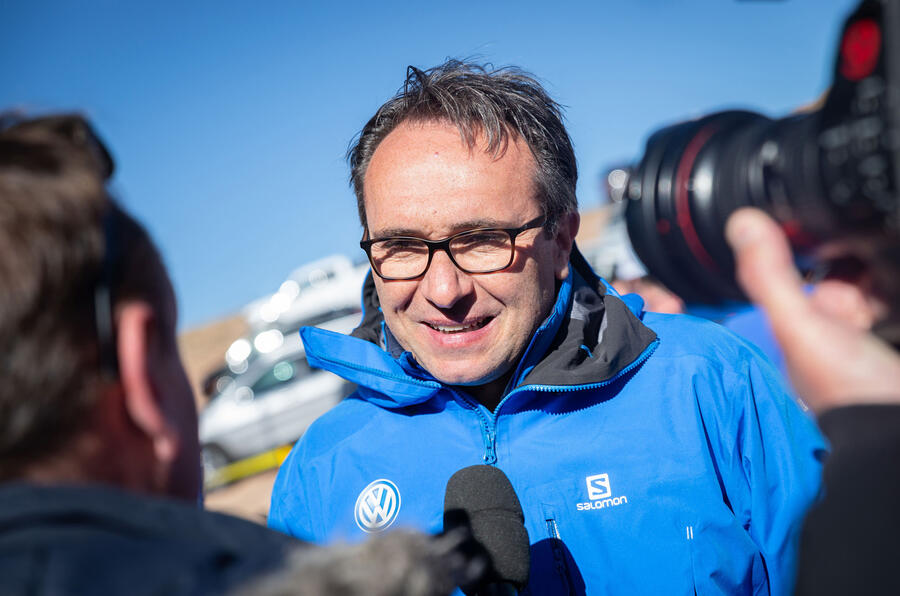 Regardless of how long those eight minutes – well, seven minutes 57.148 seconds – felt, their impact will be felt far longer. An electric car now holds the outright record on the world's toughest, most famous hill climb.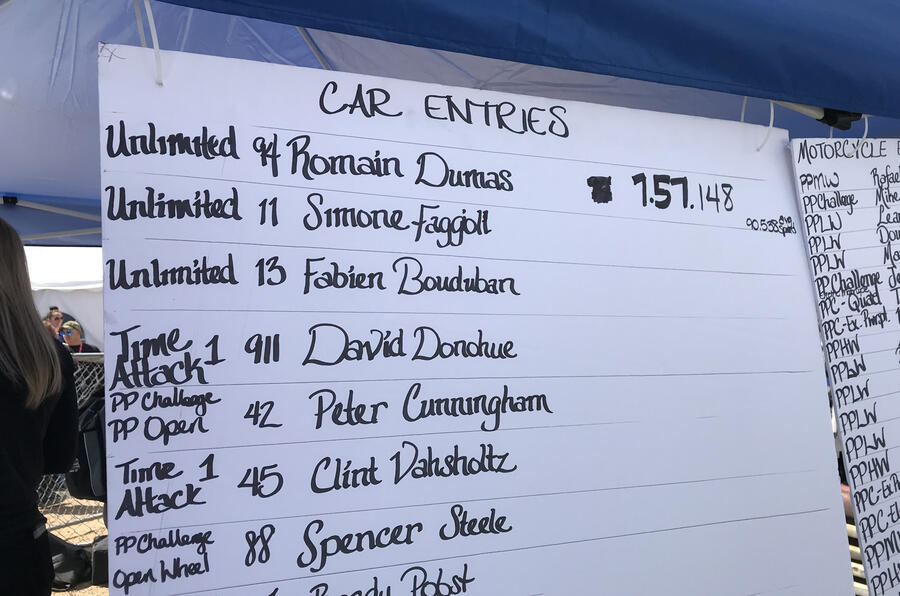 Given the pace shown in practice, the Volkswagen ID R Pikes Peak is poised to smash the electric car record in the Pikes Peak International Hill Climb. Really, the question now is how close driver Romain Dumas will come to Sebastien Loeb's outright hill record of 8min 13.878secs – seemingly untouchable when it was set in 2013.
Ask anyone from Volkswagen, and they'll tell you the only goal is the electric mark, which currently stands at 8min 57.118secs. But talk to those who know the event well, and you'll get a slightly different answer.
"Never in my life did I think I would see that," remarked Jason Campbell, a former Pikes Peak competitor who now works as a tour guide in the Penrose Heritage Museum, on Loeb's 2013 time in the Peugeot 208 T16 Pikes Peak.
"But you know, that record might fall this year."
The Penrose, located next door to The Broadmoor hotel (founded by Spencer Penrose, who built the original Pikes Peak toll road to attract tourist to his resort), is packed with cars and artefacts that trace the history of the hill climb.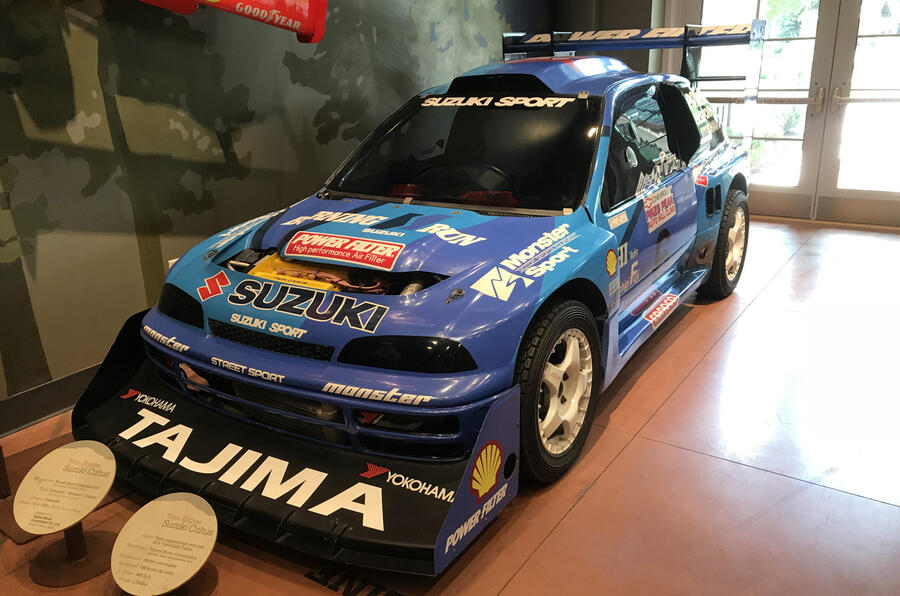 Cars on display included Monster Tajima's 789bhp twin engine Suzuki Cultus (above), which took victory in 1993, Al Unser's 1964-winning Conze and a 1973 Chevrolet Camaro stock car (below).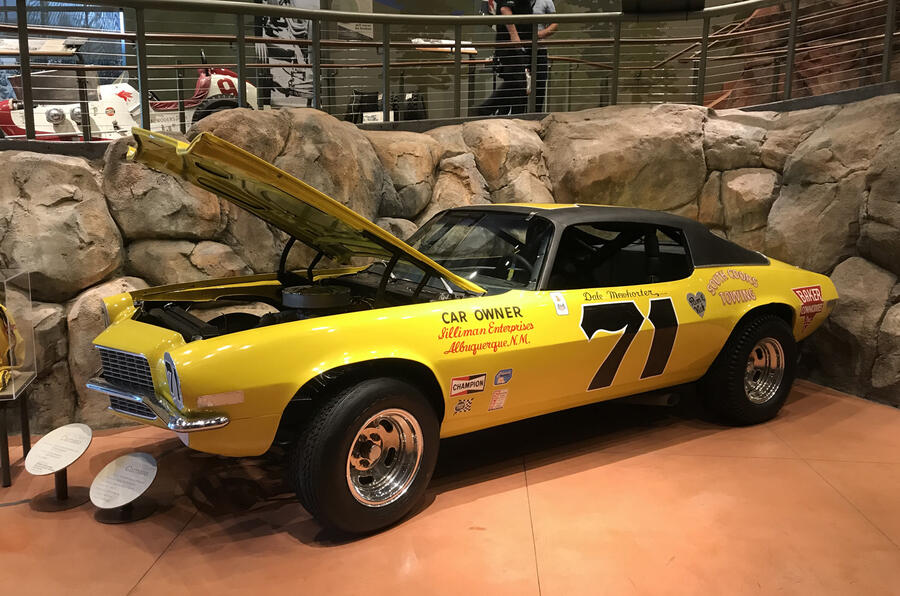 The exhibits provided a clear example of how one hill climb unites such diversity of machines, from open wheel cars, stock cars, to bespoke prototypes and bikes. Few other events truly span the full breadth of motorsport like Pikes Peak does.
There was time to visit the Penrose on Saturday because there's no competitive action, the drivers and crews given some brief respite ahead of race day after three days of qualifying and practice.
With no competitive cars going up the hill there was also the chance for a trip to Pikes Peak's summit, 14,115ft up, where the event will finish. The views were predictably spectacular, oxygen in predictably short supply and, perhaps predictably, the donuts sold in the Summit House didn't quite live up to their 'world famous' billing.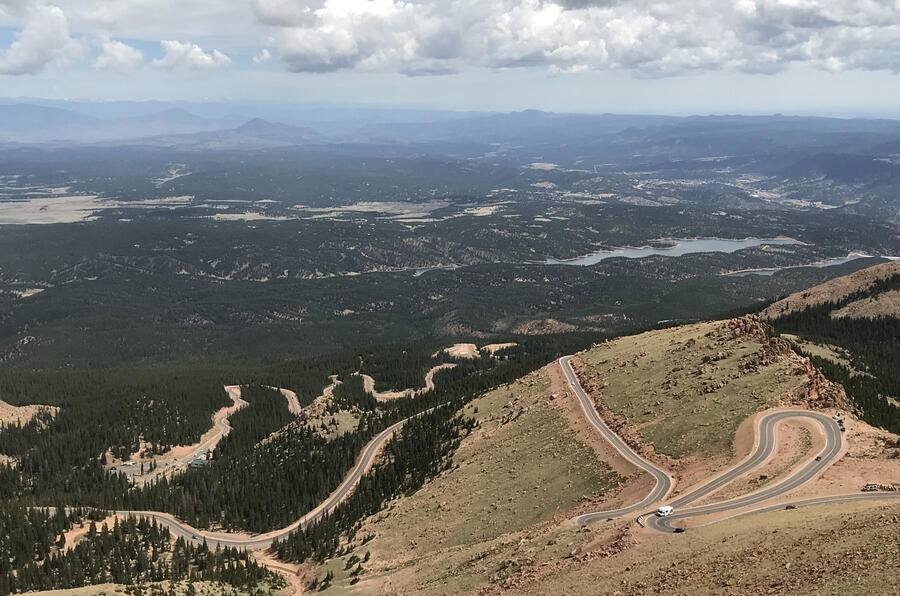 Still, what really stood out on was the course: the route might now be entirely paved, but it certainly isn't smooth. Particularly near the top, where the road was built on sand laid over the bedrock, it continues to shift and move as it wears and erodes in the weather. New bumps grow, new dips form.
In practice, Dumas had already discovered several extra bumps this year on the penultimate corner, and had to adjust his line to adapt. And it's the ever-changing conditions that explain why, instead of a scenic tour or a museum visit, Dumas planned to spend his Saturday studying data and "watching lots of in-car video." He added: "After three days of practice I've improved myself. But I want to see more film to keep learning, corner by corner."
Dumas will be as prepared as he can be by Sunday morning, but not everything will be in his control. And the biggest obstacle standing between Dumas and a new hill record – whether electric or outright – could be the weather.
"There are no guarantees," added Campbell. "The weather could change. It can be sunny at the bottom of the mountain, and go from rain to sleet to hail to snow at the top. The weather changes so fast too. Fog can roll in really quickly, and then you can't see the turns."
On which note, storms are due to roll into the Pikes Peak region early on Sunday afternoon. As top qualifier, Dumas should be up the mountain before they do, but other competitors might not be so lucky – and that forecast could change.
The preparation is done. All that's left is to take on the mountain.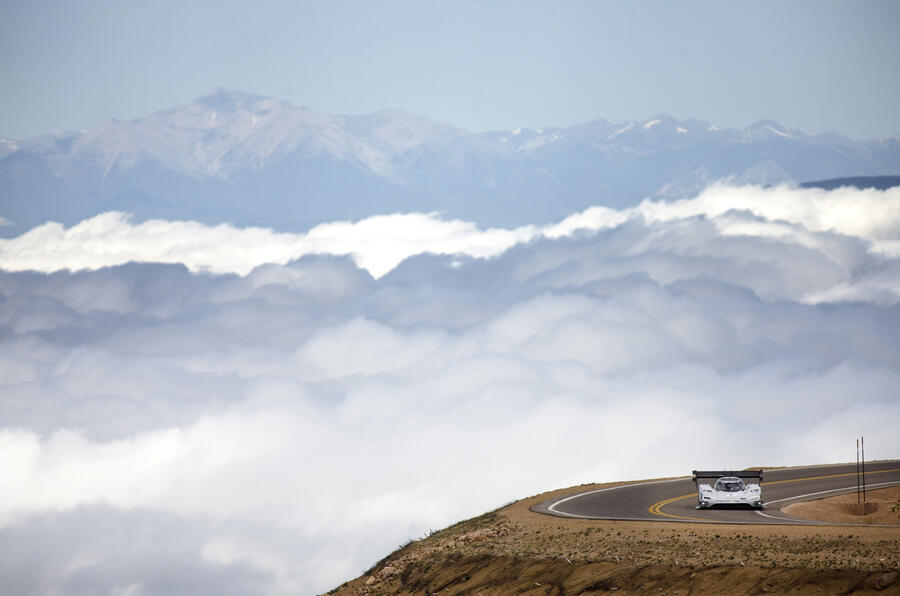 Saturday June 23 AM: how passion for Pikes Peak unites competitors
Pikes Peak is infectious. And addictive. The second-oldest motorsport event in America (behind the Indianapolis 500), the mythology of the 'Race to the Clouds' and the challenge of conquering the 12.42-mile course's 156 turns and steep elevation attracts competitors from around the world – and keeps them coming back.
They certainly don't come for the glamour: while firms such as Volkswagen and Peugeotperiodically turn up to set records and make headlines, Pikes Peak really belongs to the clubmen and enthusiasts. Their backgrounds and CVs are as varied as the machinery they drive, but they're united by a common challenge and passion: conquering America's Mountain.
Loeb and Peugeot smash record in Pikes Peak 2013
Italian Simone Faggioli is a frontrunner in European and Italian hill climbs, and said that competing on Pikes Peak has been a decades-long dream. Faggioli's team is running a pair of Norma prototypes for him and team-mate Fabien Bouduban, and have been in the fight for (distant) best-of-the-rest honours behind Romain Dumas.
"We'll never catch VW for sure," he admitted. "But the victory is being here, and our goal is simply to make it to the top."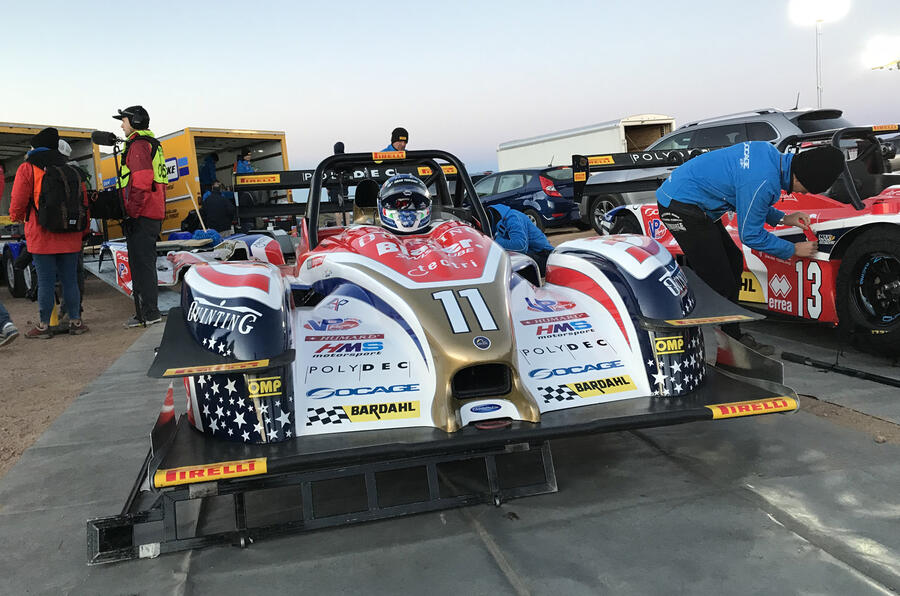 That might not sound a lofty goal, but remember Faggioli is an event rookie: he's driven the three sections of the course in practice, but the first time he'll attempt the full 12.42-miles in one go will be during his single run in Sunday's event.
Another Pikes Peak rookie is former World Rally Championship regular Manfred Stohl. In recent years Stohl has been developing an electric rally and rallycross cars, but at Pikes Peak he's driving a 1972 Volkswagen Beetle diesel. A company he has worked with, Boxeer, owns the car and invited him.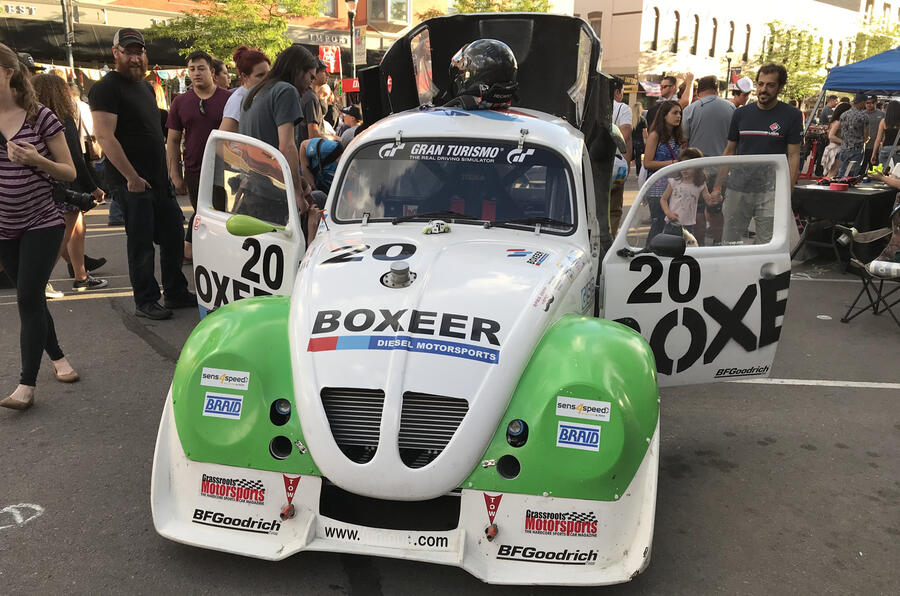 "I was a bit skeptical but when I asked what car it was and they said a '72 Beetle I agreed. How many times do you get to do Pikes Peak?"
Paul Dallenbach is definitely not a Pikes Peak rookie: he's won outright six times in the past, and this will be his 25th start in the event. The 51-year-old is returning after a year's absence to run his Open Wheel class PVA Dallenbach Special in a somewhat different hill climb: the Goodwood Festival of Speed.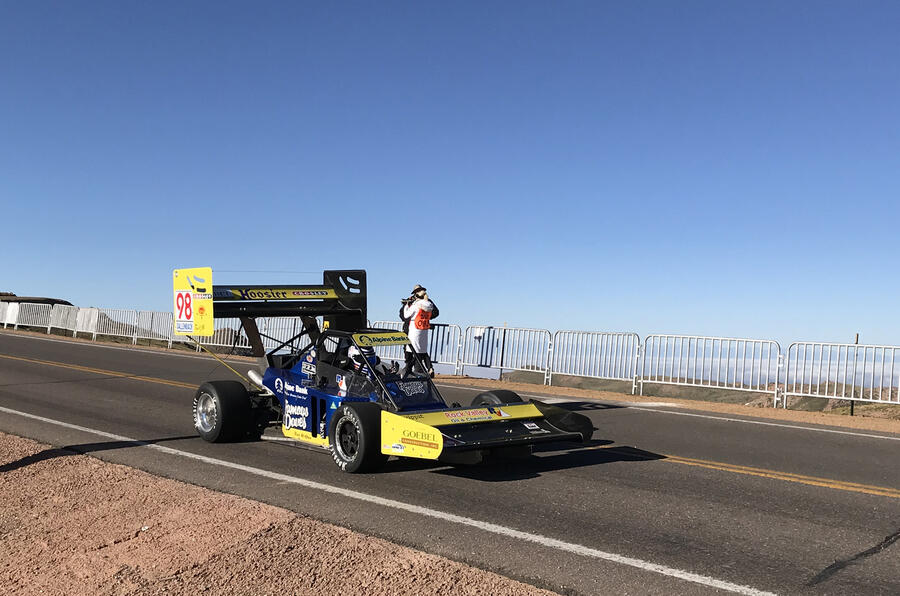 Dallenbach has returned because he loves the mountain, but also to reclaim the Open Wheel record, after Clint Vahsholtz set a new record of 9min 35.747secs last year. Dallanbach's proven machine stands out for a rear wing that's big even by Pikes Peak standards. But he admits it's never been near a wind tunnel, and said: "we test it by tying ribbons to it and driving down the highway, and seeing which way they blow."
Another Pikes Peak regular is Colorado resident David Hackl, driving a 1983 Audi A1 quattro. When new, the car used to be the 47-year-old's daily driver, but it's now been transformed into a fair approximation of a Group B quattro – and he says driving such a car on the event where it scored some famous success remains thrilling.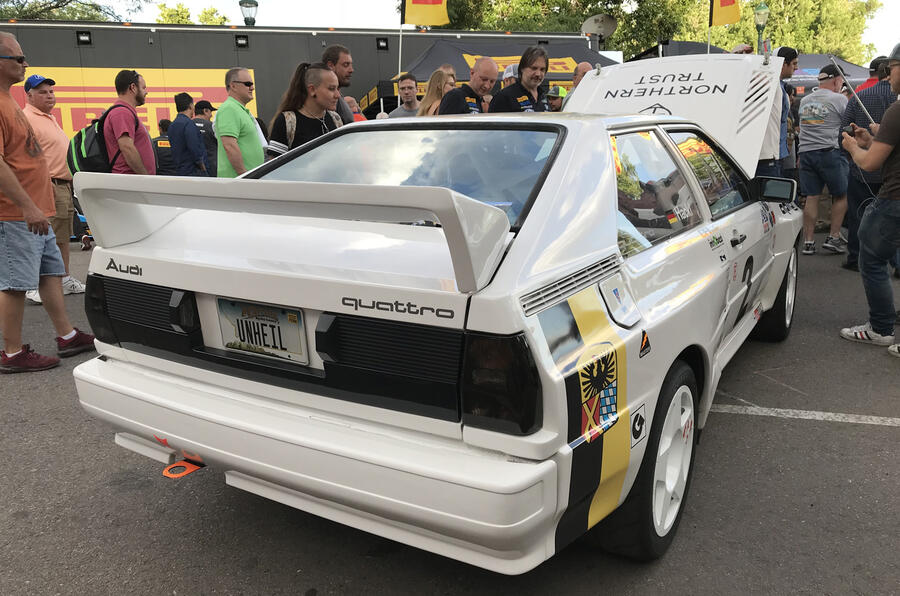 "It's actually emotional at many levels," he said. "We're trying to keep the Group B torch lit."
Hackl added that he kept returning not just for the challenge of the mountain, but for the friendships he's made with fellow competitors. His verdict on the event is one shared by many others: "It's addictive."
Friday June 22: stunning spectating at the Devil's Playground
Noise is always a talking point when it comes to electric cars, and it's definitely the first thing you notice about the Volkswagen ID R Pikes Peak. Not how quiet it is, mind you – but the fact that it sounds like a police car.
Confused? Me too, initially. But a lack of sleep and oxygen several miles above sea level wasn't making me go mad – the ID R really does have a siren fitted. It's a safety requirement by Pikes Peak International Hill Climb officials that EVs are fitted with a device that produces a certain level of noise, to warn animals and spectators. Hence the siren.
Back to that lack of sleep for a moment. You have to be committed to spectate on Pikes Peak. There's only one road up the mountain, and officials obviously aren't keen for spectators to use it when the competition cars are.
That means spectators have to get up the mountain before the runs start, and the qualifying and practice days those runs start soon after sunrise, in order the toll road can be open to the public for the bulk of the day.
Still, I'm not after sympathy: the 0300hrs alarm call was absolutely worth it – even if just to see the sun rise across the stunningly beautiful Colorado landscape from the Devil's Playground, 12,700ft above sea level and three miles from the end of the course. Watching the cars in action was even better.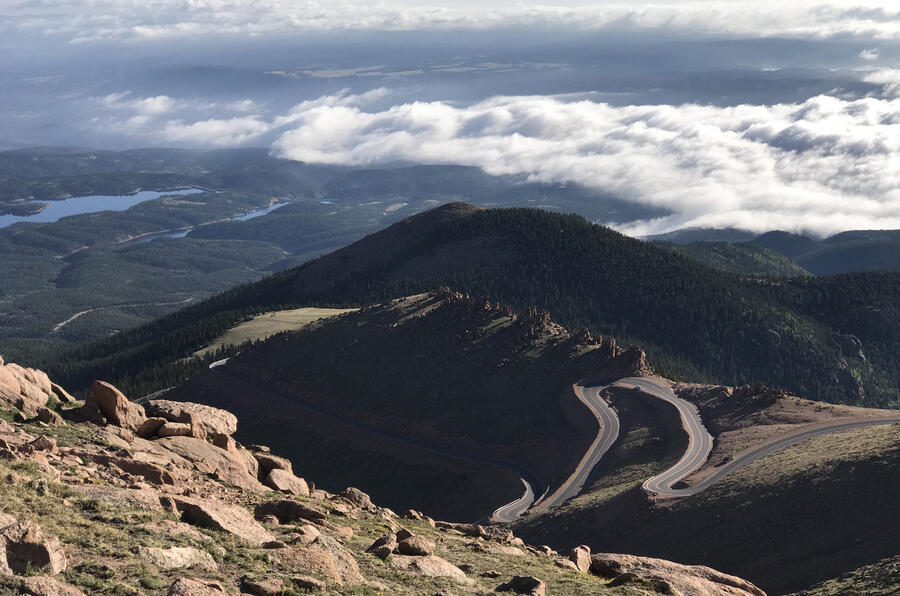 For practice the Pikes Peak course is split into three, with different classes of cars and bikes getting a session on each. For final practice, the fastest cars were tackling the final section, starting from the Devil's Playground car park.
As Romain Dumas guided the ID R Pikes Peak to the line, the contrast of this amazingly purposeful sports prototype emitting a wailing siren was quite surreal. And that amplified when the ID R set off.
The instant torque from the machine's mighty EV motors was astonishing to see, the car shooting forward with at an incredible rate. The whirr of the electric motors as the car accelerated was somewhere between a Formula E machine on steroids and a rocket.
And when Dumas reached the first turn after the line, clearly quicker than any other competitor, there was no lift; no hesitation. The car was rooted to the pavement as it disappeared from view quicker than your brain could comprehend. It was hard to know what was more surreal: the lack of engine noise for a car so fast, or that ever-present wailing siren. If nothing else, the ID R Pikes Peak has a future as an astonishingly fast EV police car.
The ID R wasn't the only machine worth tearing yourself away from the stunning views to watch. The handful of machines practicing on this section of the course also included Italian Simone Faggioli's Norma prototype, Paul Dallenbach's mightily bewinged PVA Dallenbach Special, Briton Robin Shute's self-run Wolf TSC Honda and Australian Tony Quinn's unlimited class Ford Focus (a machine so unlimited it looks unlike any Focus you've seen before).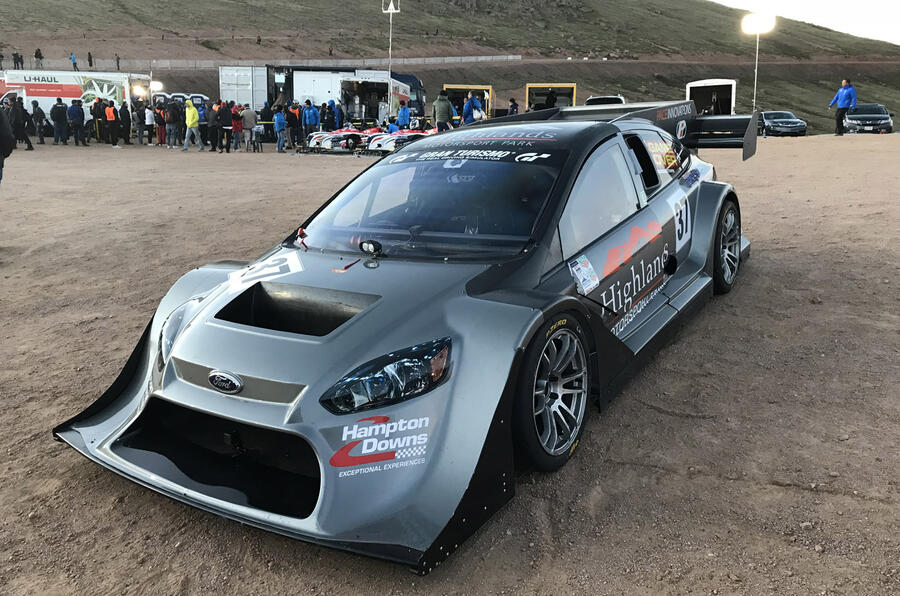 It was surreal watching these largely small teams of friends and family working across from the slick VW operation. Despite the contrast, everyone seemed to embrace the new arrivals. "It's an awesome machine, and seeing it in person is amazing," said Dallenbach, a former overall winner competing in his 25th Pikes Peak. "It adds to the event, too. It brings attention and that benefits everyone."
Chances are nobody will get close to Dumas in Sunday's event. But that's not the point: much like Volkswagen are chasing a record more than the event win, Pikes Peak is more about conquering the mountain as beating your rivals.
Dallenbach added: "There's great camaraderie here. Everyone helps everyone, and the atmosphere is great. It's an amazing event, just wonderful – and that's why people keep coming back."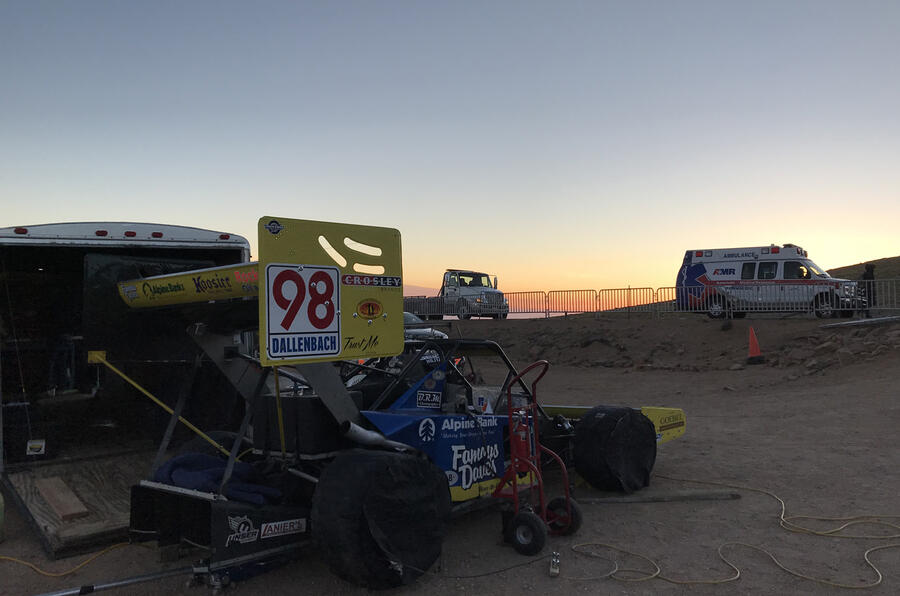 Thursday 21 June: why Romain Dumas has no regrets he never reached F1
Romain Dumas never made it to Formula 1. He doesn't really care. He doesn't have the time.
Last weekend, the 40-year-old Frenchman raced a works Porsche 919 RSR in the 24 Hours of Le Mans (his car, pictured below, retired with mechanical issues). This weekend, he'll take on a very different challenge, driving the electric Volkswagen ID R Pikes Peak machine on the Pikes Peak International Hill Climb in Colorado.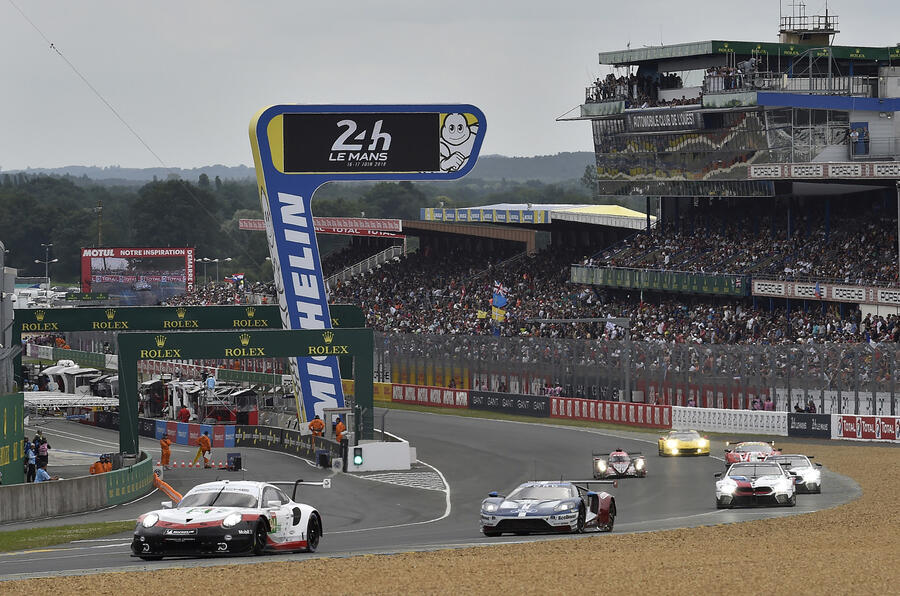 The contrast between a round-the-clock endurance race and a 10-minute blast up a hill is typical of Dumas's career, which has included winning Le Mans outright in Audi and Porsche (below) LMP1 prototypes, the 2016 World Endurance Championship title, two American Le Mans Series crowns and multiple wins in the Nürburgring 24 Hours.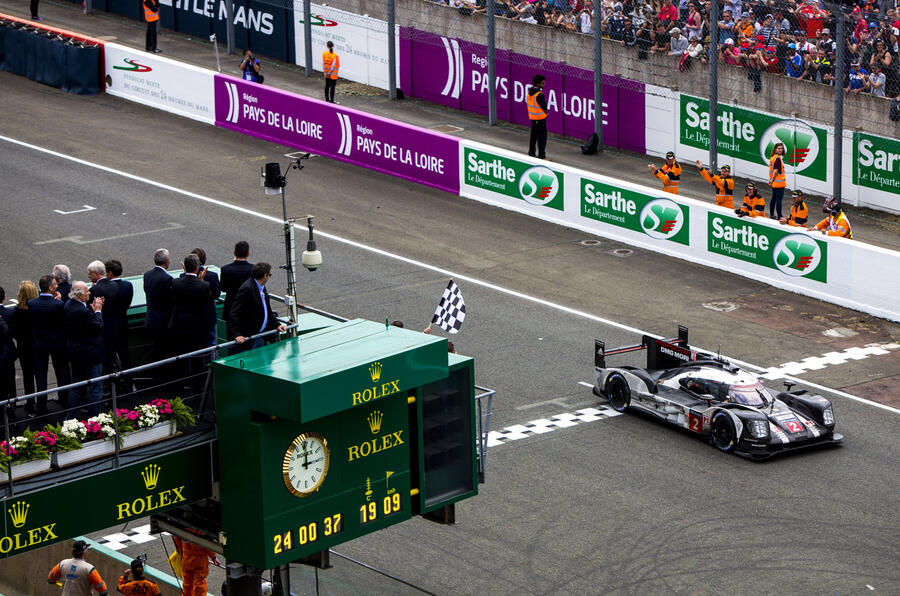 And when he's not racing sports cars, he's won Pikes Peak outright three times, contested the Dakar Rally for Peugeot and, in his spare time, goes rallying.
He's pretty much done it all. Almost.
"If you ask me what was missing in my career, it's F1 and IndyCar," says Dumas. "I did an IndyCar test once, which was exciting — but I did think: 'This is quite dangerous.'"
Dumas showed enough potential and form in the junior single-seater categories to earn a test with the Renault F1 team in 2002, but that was as close as he came. Still, he harbours no regrets. "F1 is possibly the only category where it's not just about the cars, but about what is going on around the track," he says. "It's possibly not made for me.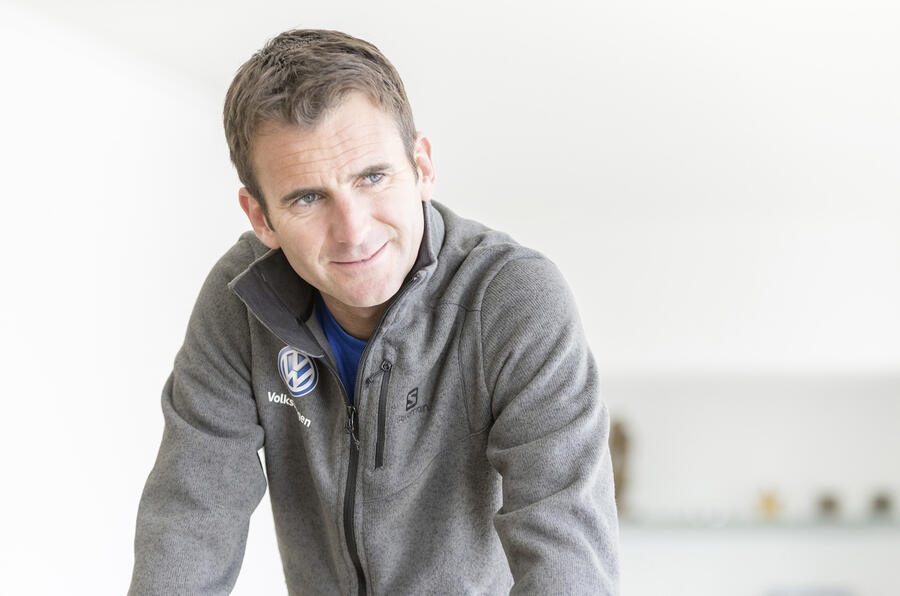 "If I'd done F1, I don't know I would have been successful, and I would never have done Le Mans and Dakar and Pikes Peak. I'm more happy about what I've done than what I haven't."
Preview: why Volkswagen is going for a new electric Pikes Peak record
The next step comes this weekend, when he returns to Pikes Peak, this time as a works VW driver. He's certainly the favourite for victory; unsurprisingly, nobody else has come close to his pace in practice so far this year. He was 11.049sec quicker than Norma driver Simone Faggiolli in qualifying — which took place on a 5.15-mile section of the course.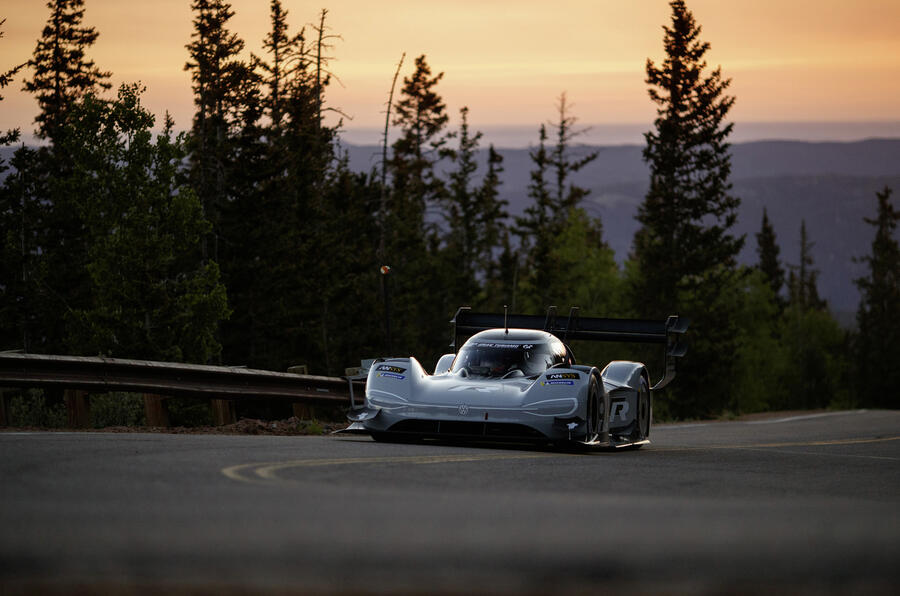 Romain Dumas's guide to the Pikes Peak hill climb
But for Dumas and VW, winning the event is a mere by-product of the real goal: setting a new hill record for an electric car. If Dumas succeeds, it will be another highlight of a CV that is all the better because it doesn't include F1.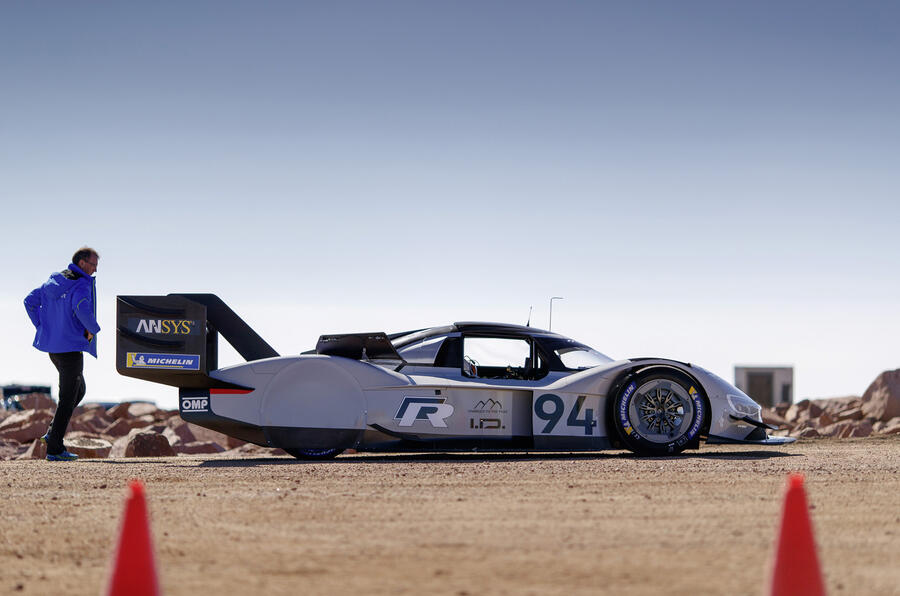 Read