This is the new Mini 1499 GT
Based on the entry-level Mini One, the 1499 GT gains snazzy exterior decals and a sportier set-up. We find out how the limited-run special edition fares



The Mini 1499 GT is a sporting model based on the current 3-door Mini, but cheaper than the Cooper S




The 1499 badging reveals the displacement of its 101bhp engine, and signifies how many examples will roll off the firm's Oxford production line




The 1499 GT offers a 211-litre boot, so it's outdone by most rivals in the hugely competitive supermini segment




The 1499 GT has been treated to blacked-out 17-inch alloy wheels, sports suspension, tinted windows and white indicator caps. There's plenty of John Cooper Works goodness too, including a bodykit, sports seats, steering wheel and badging throughout




On a country B-road, you'll find plenty to commend the 1499 GT on. The sports suspension tightens things up through the bends, body roll is practically non-existent, and you get a good sense of how the car's chassis is interacting with the road beneath you




There's a lot to like about the Mini 1499 GT. It looks great and handles well




Mini 1499 GT detail




The interior is far classier than what you'd find in a Ford Fiesta or Volkswagen Polo




Mini 1499 GT interior




The front end is eager to turn in – a byproduct of having a lighter three-cylinder engine under the bonnet and a quick steering rack – and the front tyres grip tenaciously




The rear seats of the 1499 GT
Now in its third generation, we find out if the bigger, cleverer and more mature Mini can still entertain like it predecessors did
What is it?
To put the new Mini 1499 GT in context, a little history is needed. Back in 1969, if you wanted to get your hands on a Mini that had a just a little bit more in the way of poke and performance, you'd likely find yourself looking at the 1275 GT. Originally billed as a sporting model, this go-faster Mini was powered by a larger 1275cc engine (the older Cooper used a 998cc unit) that developed a modest 59bhp, and could crack 60mph from a standstill in 12.9 seconds.
By the standards of the time, that would have likely warranted a "phwoar" or two for sure. It may not have been as quick as the Cooper S, which was discontinued in the UK in 1971, but the 1275 GT was cheaper to buy, run and insure – so you can see why it would have appealed to the contemporary petrol head.
Fast-forward to 2018, and history seems to have repeated itself in the form of this: the new 1499 GT. It too is billed as a sporting model, but at £16,990 it's more affordable than the current Cooper S, and with the 101bhp three-cylinder engine from the Mini One upon which it's based at its nose, it's also cheaper to run and insure – if not quite as quick. As with it's ancestor, the "1499" badging reveals the displacement of its engine, but as this is a limited-run, special edition model it also signifies how many examples will roll off the firm's Oxford production line.
Don't think of this as your regular Mini One with some fancy "1499 GT" gold decals down its flanks, though. Oh no. There's much more besides. This Mini has been treated to blacked-out 17-inch alloy wheels, sports suspension, tinted windows and white indicator caps. There's plenty of John Cooper Works goodness too, including a bodykit, sports seats, steering wheel and badging throughout. Credit where credit's due, Mini knows how to make a good-looking compact hatch.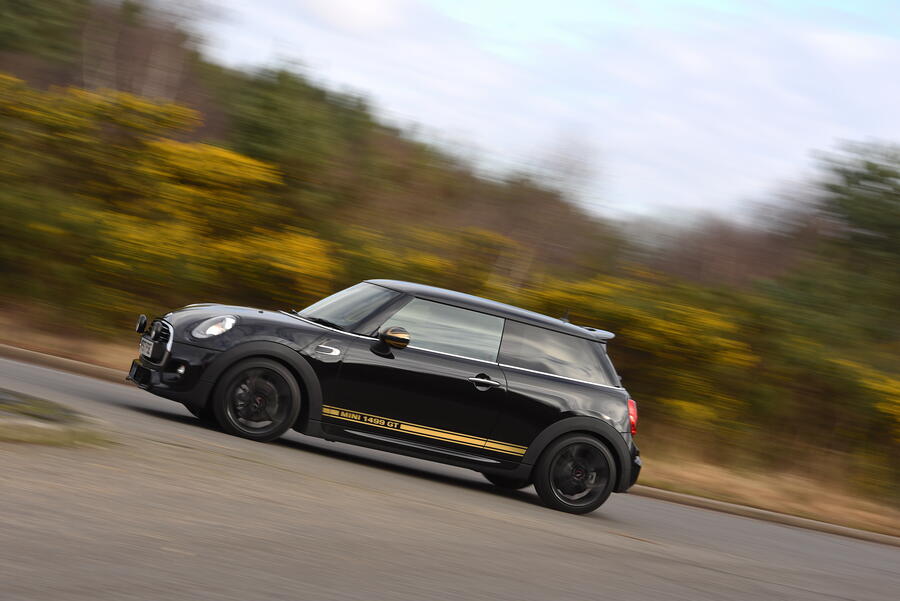 What's it like?
On a country B-road, you'll find plenty to commend the 1499 GT on. That sports suspension really tightens things up through the bends, body roll is practically non-existent, and you get a good sense of how the car's chassis is interacting with the road beneath you. The front end is eager to turn in – a byproduct of having a lighter three-cylinder engine under the bonnet and a quick steering rack – and the front tyres grip tenaciously, only washing out to understeer if you get a bit silly with your right foot mid-corner. Lift off the throttle and you'll provoke short bouts of predictable, easy-to-manage oversteer, too. In short, it does the fun stuff very well.
Admittedly, the three-pot motor isn't the most athletic power plant in the world, and will accelerate in a lethargic manner if you allow the revs to drop below about 3500rpm. This is a bit of a shortcoming when you're out on the motorway, as in-gear overtakes can be a lengthy, drawn-out procedure. Working the six-speed manual gearbox is a sound remedy for this, though, although one that may grow tiresome in day-to-day driving.
The appeal of the firmed up suspension might also start to wane after time, too. On a fast, flowing B-road it's great, but around town and out on the motorway you wouldn't call it comfortable. Imperfections in the road surface become far more pronounced and particularly bad stretches of Tarmac will likely leave you questioning its necessity, as well as that of the hard, but supportive, John Cooper Works sports seats. Were this a proper hot hatchback, that firmer everyday ride would be more acceptable, but given the fact that the 1499 GT is for all sakes and purposes a reworked entry-level Mini One, it's lack of power serves to make an at times uncomfortable ride that much more pronounced.
From a practicality point of view, the 1499 GT offers a 211-litre boot, so it's outdone by most rivals in the hugely competitive supermini segment, including the Ford Fiesta (292 litres) and our current class favourite, the Seat Ibiza (355 litres). The three-door layout does make accessing the rear a bit of a process – one which is made more difficult by the bulky John Cooper Works front seats – and when you finally do get settled, legroom is incredibly tight. Still, while a Fiesta or an Ibiza might offer more in terms of interior space and practicality, the Mini pips both of them for style and material quality.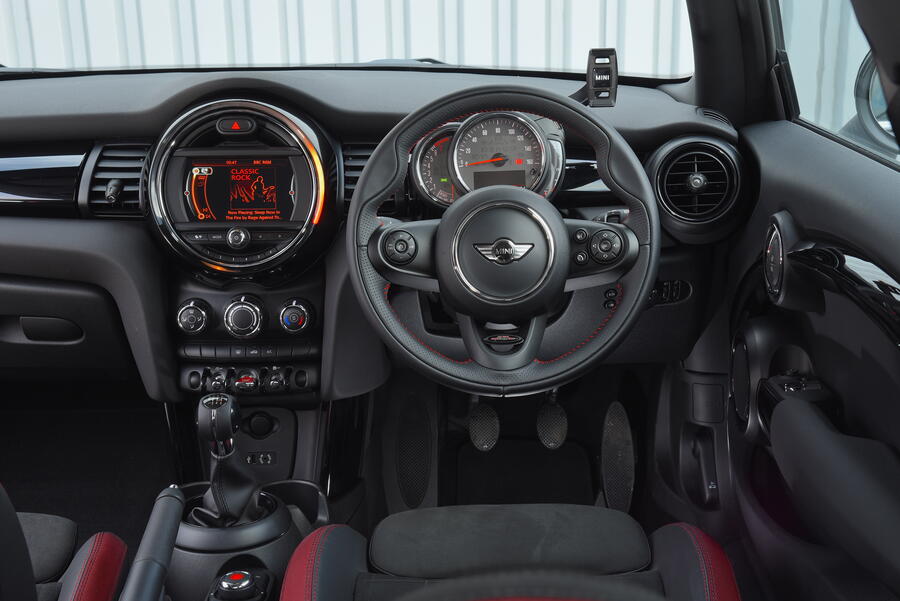 Should I buy one?
Make no mistake, there's a lot to like about the Mini 1499 GT. It looks great, handles well and with a claimed economy figure of 57.6mpg on the combined cycle, it won't break the bank at the fuel pump. Being a limited-run model it'll likely hold its value well, and its interior is far classier than what you'd find in a Ford Fiesta or Volkswagen Polo. If you're prepared to live with its firm ride, then you'll have little to complain about.
If, however, you want a supermini that's fun to drive, attractive to look at, cheap to run and still comfortable over rough surfaces, then a Seat Ibiza or Fiesta ST-Line make for compelling, if not quite as exclusive, alternatives.
Mini 1499 GT
Where Surrey On sale Now Price £16,990 Engine 3cyls, 1499cc, petrol, turbo Power 101bhp at 3900rpm Torque 140lb ft at 1350rpm Gearbox 6-spd manual Kerb weight 1190kg Top speed 121mph 0-62mph 10.1sec Fuel economy 57.6mpg CO2 114g/km, 21% RivalsFord Fiesta, Volkswagen Polo, Seat Ibiza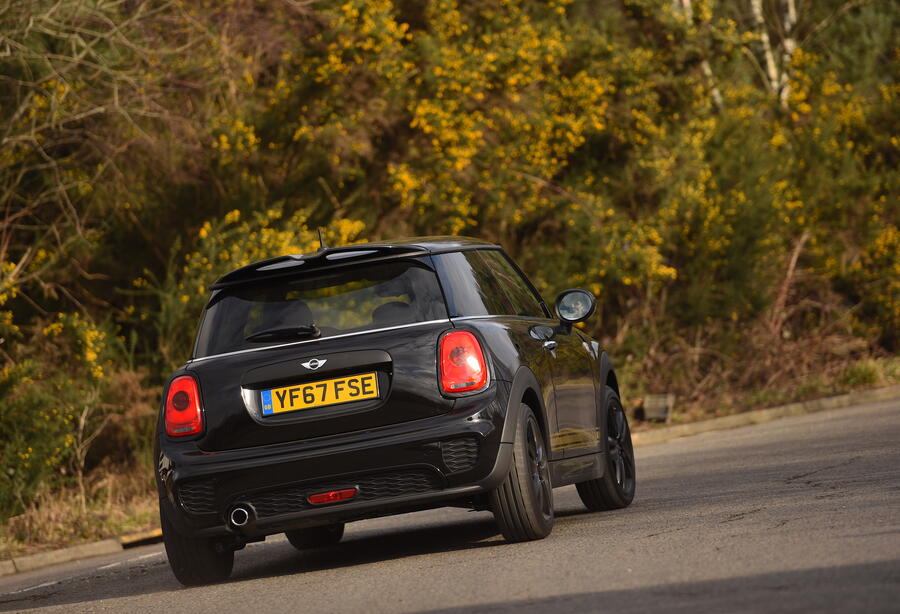 www.autocar.co.uk