What is it?
Ever since it was introduced four years ago, we've been waiting for the Huracan to realise its true potential. That moment eventually arrived last year when the Huracan Performante was launched.
Leaner, tighter and more rewarding than any Huracan before it, the Performante was the V10 Lamborghini we had been waiting for. Now, the Spyder has received the very same treatment.
The 5.2-litre V10 has been wrung out to 631bhp, while torque jumps up from 413 to 443lb ft. The weight saving is 35kg like for like, mostly down to the use of a lightweight exhaust system and what Lamborghini calls Forged Composites, which to you and I looks like chopped rather than woven carbon fibre.
The chassis has been completely reworked for sharper, more focussed dynamics and the tyres are stupendously grippy Pirelli P Zero Corsas.
The signature innovation, however, is Aerodinamica Lamborghini Attiva, a neat system of electronically controlled flaps in the front splitter and the towering rear wing that can divert air one way or the other to increase downforce one moment and reduce drag the next.
There is a price to pay if you prefer your Performante served topless. A less rigid structure for one thing, and 125kg of additional dead weight for another.
It must be said, this car is fundamentally at odds with itself. Building a lean, track-going machine out of the tubbier, less rigid Spyder model is like trying to make a speedy winger out of a heavy-set prop. It's the wrong starting point.
But, somehow, Lamborghini has made it work.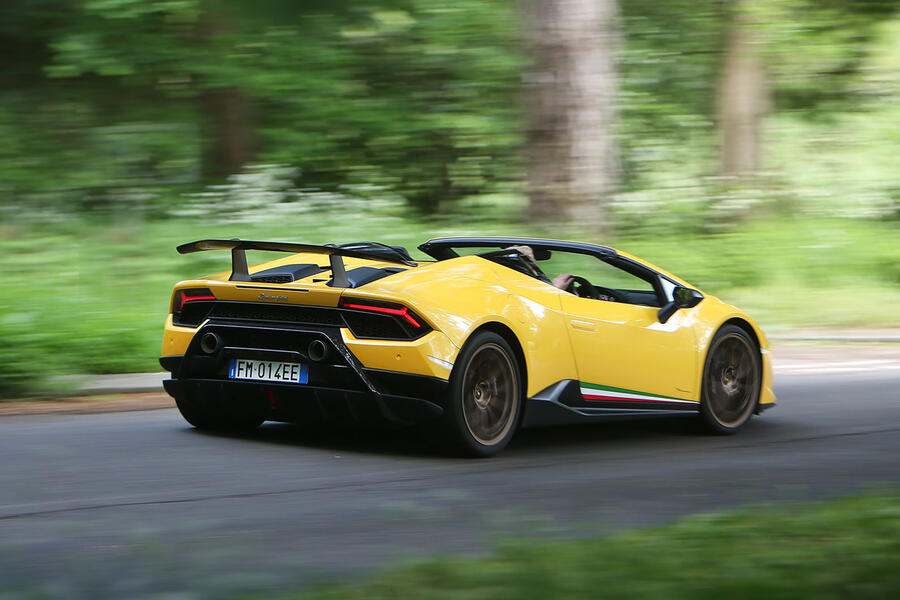 What's it like?
On circuit the Performante Spyder will undoubtedly give away a few tenths to the Performante Coupe. Out on the road, however, where these topless cars will almost exclusively live, the Spyder is every bit as spectacular to drive as the hardtop. It is a masterstroke.
If you rattle it over a really rough patch of tarmac at speed, you'll be aware of the structure shuddering slightly around you. And in the middle of third gear with the the throttle wide open it perhaps doesn't feel as effortlessly accelerative as it might – although by the time 6000rpm has come and gone you won't believe there could possibly be another car on the road that's as fast.
You might also be faintly aware of the chassis getting a touch flustered when you ask it to do several things at once; turn into a corner while you're hard on the brakes just at the moment the road drops away, for instance.
If you really go looking for them – as in, look so intently that you're actually paying no attention to anything else – you can identify the handful of ways in which the Performante Spyder is compromised over the Coupe. Otherwise, though, there's scarcely anything between them.
That titan of an engine – more vocal now thanks to the trick exhaust system and even better appreciated with the canvas hood stowed away – is arguably the most exhilarating combustion engine you can buy right now.
The seven-speed twin-clutch transmission, meanwhile, is so rapid on upshifts that it seems to swap gears even before you've pulled the paddle. The ride and damping are exquisite (on optional adaptive dampers, at least, which cost £5148 with a front axle lift included), body control is absolute, grip levels beggar belief and with four-wheel drive traction seems to be infinite.
The steering, meanwhile, with its variable assistance and variable ratio, takes some getting used to. It is too sharp and overly responsive, which makes the car feel a touch nervous to begin with.
Headroom with the roof in place is very tight, too, but it's the fixed-back bucket seats that really let the side down. It's as though they've been designed specifically to remind you of the comforts of home, like church pews.
After 90 minutes at the wheel you'll have to stop and go for a short walk, just to straighten your spine out.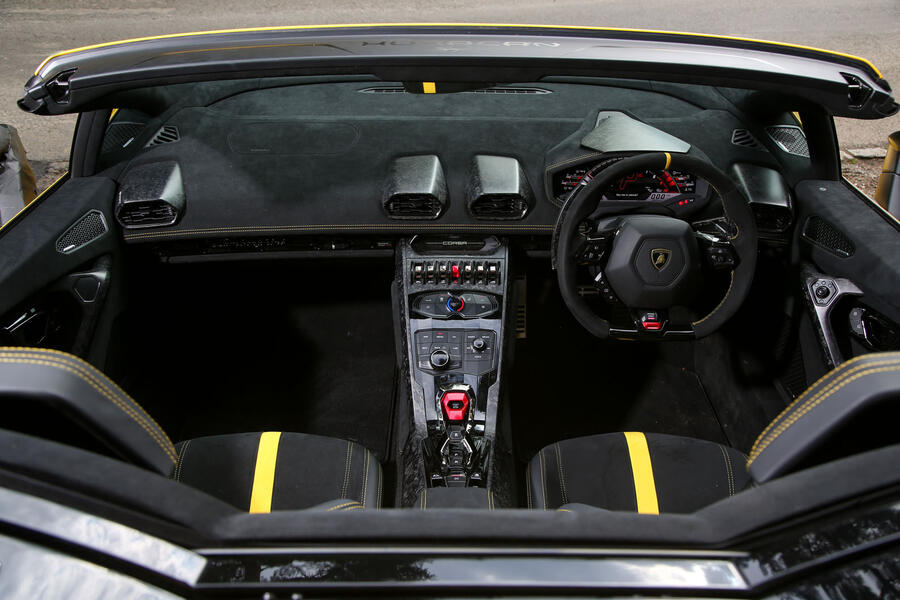 Should I buy one?
If you're the sort of person who loves to chase tenths of a second on trackdays, stick to the Coupe.
For everybody else, the Spyder delivers the more intoxicating and immersive driving experience, in spite of its one or two dynamic frailties.
With the Huracan Performante, Lamborghini has put Ferrari and McLaren on notice.
Lamborghini Huracan Performante Spyder specification
Where Snowdonia, Wales Price £238,000; On sale now; EngineNormally-aspirated V10, 5204cc, petrol; Power 631bhp at 8000rpm; Torque 443lb ft at 6500rpm; Gearbox 7-spd, twin-clutch automatic; Kerb weight 1507kg; Top speed 201mph; 0-62mph 3.1sec; Fuel economy 20.2mpg; CO2 320g/km; Rivals McLaren 570S Spider, Ferrari 488 Spider
www.autocar.co.uk