Faster, more agile and perhaps more authentically 'Ferrari', but the Portofino lacks the dynamic sophistication of a great GT car, just like its predecessor



The Portofino's engine revs to a tremulous 7500rpm; it has a huge swell of mid-range torque; and it responds crisply at all times and feels unusually progressive in its power delivery for a highly stressed turbo




The new Ferrari Portofino replaces the California in the marque's line-up




The car's styling may be characteristically dressy, but it undoubtedly makes for a much better proportioned and visually appealing car than the California was




Underneath the attentively creased body panels, there's a body-in-white that's lighter and 35% more rigid than the California's




The suspension has been stiffened, and its steering system both quickened and switched from hydraulic power assistance to electromechanical




Under the bonnet, a reappraisal of induction and exhaust design of the car's 3.9-litre, 90-degree, flat-plane-crank, twin-turbo V8 conjures an additional 38bhp of peak power




The Portofino's exhaust has an electronically controlled bypass valve, making it louder or quieter depending on the drive mode you've selected on the familiar 'manettino' switch.




The Portofino has three driving modes which configure its powertrain, dampers, steering and stability control – and a separate 'bumpy road' suspension override button so that you can have most of the systems set for optimum driver engagement but the dampers set to soft




The Portofino's ride too easily becomes jittery and restless on a vaguely undulating surface in 'sport' mode




Ferrari Portofino




The car's handling also helps to rob it of the breadth of ability needed to make it seem suited to any journey; relaxing, at times, as well as exciting




The new electric steering's very direct and while it has weight, doesn't manage that weight cleverly enough to give you something to push against as the front wheels bite




Ferrari's habitually effective lateral body control and incredible handling response is absolutely in evidence in the way you can so readily flick the Portofino into fast corners




The car's on-throttle handling balance has plainly been taken to new heights by that active diff – to the point, however, that the whole dynamic mix now seems a touch over-seasoned




Ferrari's side slip control oversteer-tamer isn't fitted here – and without it, you just never feel sufficiently at ease with the car's steering pace, or have the confidence you need to get stuck into that final layer of the driving experience




The Portofino's driver gets the familiar duo of 5in colour instrument displays flanking the central analogue rev-counter (which remain a bit busy and unintuitive)




Ferrari Portofino engine




Comfy leather seats with extendable cushions are certainly less of a steep drop to get into than a 488's




Ferrari Portofino details




The 10.3in central display carries navigation mapping you can easily browse




Ferrari Portofino details




Passengers gets their own widescreen touch-sensitive display too (though only as a £3300 option)




Ferrari Portofino details




Ferrari Portofino details




Ferrari Portofino roof folding




There is certainly quite a lot of added alertness and attitude about this car's dynamic character




Be it by design or accident, the Portofino seems little easier-to-drive, easier-going or broader-of-bat, if at all, than several mid-engined supercars
What is it?
When you've been making sports cars for as long as Ferrari has – and it was seven decades last year – you're bound to have become quite good at it. Maranello's 488 GTB is outrageously ballistic and joyously exciting proof of that.
The company's pedigree in modern drop-top grand tourers like the new Ferrari Portofino is, shall we say, somewhat less convincing. It introduced the Portofino's predecessor, the original folding hard-top California – its answer to the Mercedes-AMG SL63 and Porsche 911 Turbo cabriolet – ten years ago. But straight away it became clear that The Prancing Horse was dipping an elegant equine ankle into waters that couldn't even be thought vaguely familiar, even with the existence of likes of the 575M Superamerica and Daytona Spyder nestled deep in its back catalogue.
The task was to reconcile opposing requirements by creating a car with the dynamism and excitement of an authentic Ferrari but also the versatility, refinement and convenience necessary of a car you'd use every day. To do it, also, in something burdened with the added mass and structural compromises of a folding tin-top convertible. Not easy. The company's main reason for taking on the challenge, meanwhile, was that a really successful effort could probably double the breadth of the base of Ferrari's sales volume pyramid.
But the California's story didn't pan out like that. Although the car was revised, lightened, tweaked and turbocharged through the course of its life, it never quite delivered success on that scale. While it's very rare indeed for Ferrari's V8 mid-engined cars not to hit 1000 sales in a calendar year in Europe, the California only cleared that threshold once. Time to take a fresh swing at it, then.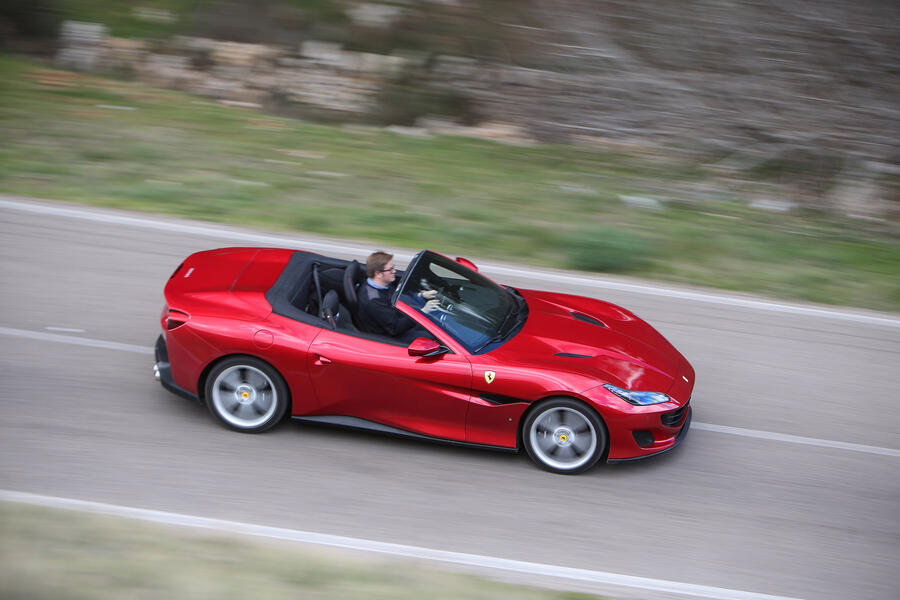 What's it like?
The Portofino, like its more export-market-savvy model name, is all-new. The car's styling may be characteristically dressy, but it undoubtedly makes for a much better proportioned and visually appealing car than the California was. With the roof up, there are even shades of the Daytona about the Portofino's recumbent silhouette.
Underneath the attentively creased body panels, meanwhile, there's a body-in-white that's at once lighter and 35% more rigid than the California's. The car's suspension has been stiffened, its magnetorheological adaptive dampers retuned and its steering system both quickened and switched over from hydraulic power assistance to electromechanical.
Under the bonnet, a reappraisal of induction and exhaust design of the car's 3.9-litre, 90-degree, flat-plane-crank, twin-turbo V8, together with the adoption of some new internals, conjures an additional 38bhp of peak power. The Portofino's V8 is unusual among the latest force-fed equivalents because the exhaust sides of its cylinder heads are the outer ones, and so its turbos are mounted low and wide rather than in the configuration that Audi and Mercedes-AMG call a 'hot V'.
Ferrari says it experimented with both layouts but this one packages best in both the Portofino and 488, and delivers less exhaust back pressure and a lower centre of gravity than the alternative would. And while Ferrari may only have liberated 4lb ft of additional torque here, given that it has also saved 80kg in the car's kerbweight, this car trumps Aston Martin's equally new DB11 Volante on power to weight ratio by more than 75bhp-per-tonne.
Remember when Maranello's idea of an infotainment system came with a two-inch-wide monochrome display strip and navigation instructions harder to follow than the thinking behind Donald Trump's international trade policy? How things change. The Portofino's driver gets the familiar duo of 5in colour instrument displays flanking the central analogue rev-counter (which remain a bit busy and unintuitive), and the passenger gets their own widescreen touch-sensitive display too (though only as a £3300 option).
But the whole collection is dominated by a 10.3in central display that carries navigation mapping you can easily browse; that displays routes that you can easily follow; and that generally collects digital consoles for the car's variously configurable systems that make mastering them uncharacteristically straightforward. For a convenience-minded GT car, that's not a bad start.
Here's another surprise: comfy leather seats with extendable cushions which, fair's fair, are certainly less of a steep drop to get into than a 488's. The Portofino's cabin remains a way off the level of Mercedes-AMG or Audi for perceived quality, but it gives little up to either McLarenor Aston Martin.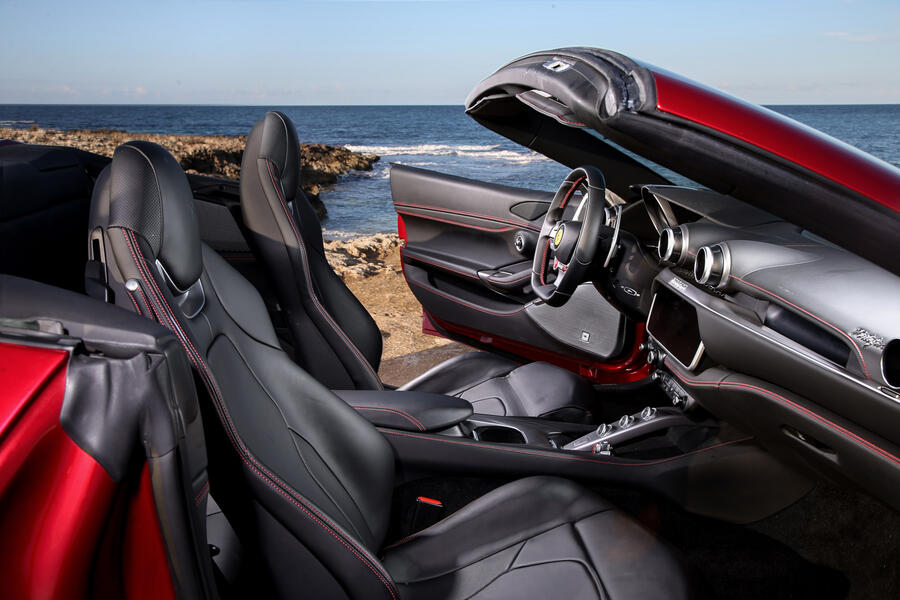 The Portofino's exhaust, meanwhile, has an electronically controlled bypass valve, making it louder or quieter depending on the drive mode you've selected on the familiar 'manettino' switch. It remains quietish in 'comfort' mode, until you use more than about 50% throttle – but makes a lovely, brash, brassy racket if you engage 'sport'. The engine revs to a tremulous 7500rpm; it has a huge swell of mid-range torque; and it responds crisply at all times and feels unusually progressive in its power delivery for a highly stressed turbo. It's always a cut well above an AMG or Audi V8 for dramatic character, in other words. Very Ferrari. But is it very grand tourer? Perhaps not.
The gearbox, too, gives further impetus to the slowly coagulating sense that the car's identity is slightly muddled, and permanently at odds with itself. The twin-clutch unit is at its best when you're shifting gears manually using the column-mounted paddles, when it thunks each up- and down-shift through with real speed and vigour. But it's unconvincing when you just leave it in 'auto' mode, often timing its shifts with frustrating hesitancy, feeling a touch clumsy on step-off and when manoeuvring, and refusing to creep as you lift off the brake pedal. In a mid-engined supercar, all of those quirks are easy to overlook. But in a grand tourer, effortless ease-of-use matters much more.
In typical Ferrari convention, the Portofino has three driving modes which variously configure its powertrain, dampers, steering and stability control – but it also has a separate 'bumpy road' suspension override button so that you can have most of the systems set for optimum driver engagement but the dampers set to soft. Suffice it to say, the car has obvious, regular need of that 'bumpy road' button.
The Portofino's ride too easily becomes jittery and restless on a vaguely undulating surface in 'sport' mode. It calms down a bit when you dial down the suspension, but never quite avoids a clunk or fidget for long enough, whatever sort of road you're on, to successfully create the easy long-striding aura of a proper GT car. There's a touch of body shudder, too, over the worst, sharpest lumps and bumps.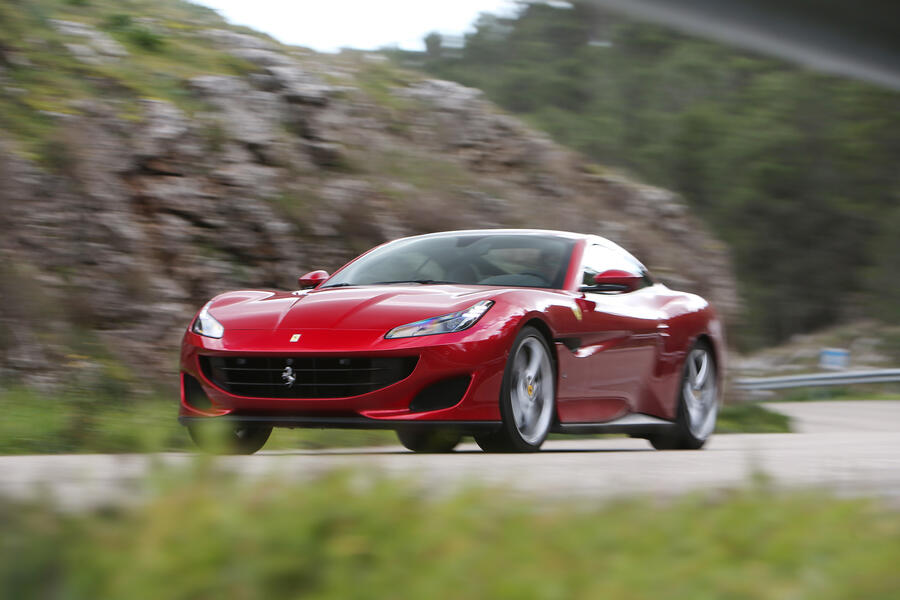 The car's handling also helps to rob it of the breadth of ability needed to make it seem suited to any journey; relaxing, at times, as well as exciting. The new electric steering's very direct – hardly less so than is a 488's – and while it has weight, doesn't manage that weight cleverly enough to give you something to push against as the front wheels bite. There's almost no stability-minded 'dead zone' to the Portofino's rack around the straight-ahead, and so it demands as much of your concentration on the motorway as a 488 would.
Away from there there's better news. Ferrari's habitually effective lateral body control and incredible handling response is absolutely in evidence in the way you can so readily flick the Portofino into fast corners. The car's on-throttle handling balance has plainly been taken to new heights by that active diff – to the point, however, that the whole dynamic mix now seems a touch over-seasoned. There's no need for owners to worry: the stability controls work well to make the car feel incisive but obedient when they're active, and there's plenty of fun to be had with them on. But Ferrari's remarkable side slip control oversteer-tamer isn't fitted here – and without it, you just never feel sufficiently at ease with the car's steering pace, or have the confidence you'd need in the predictability of the rear axle, to be inclined to get stuck into that final layer of the driving experience.
Should I buy one?
There is certainly quite a lot of added alertness and attitude about this car's dynamic character, and for a great many owners it may very well feel like the authentic Ferrari roller-coaster-ride that the California perhaps failed to serve up. In some ways this is a more versatile, better luxury sports car than a California, too.
But be it by design or accident, this is a car that seems to me little easier-to-drive, easier-going or broader-of-bat, if at all, than several mid-engined supercars I could mention – and one of them built by Ferrari itself. If someone asked me to drive 300 miles on ordinary roads and in uninterested fashion in one or the others right now, I don't think I'd pick the new boy.
Ferrari Portofino
Engine V8, 3855cc, twin-turbocharged, petrol; Power 591bhp at 7500rpm; Torque 561lb ft at 3000-5250rpm; Gearbox 7-spd twin-clutch automatic; Kerb weight 1664kg; 0-62mph3.5sec; Top speed 199mph; Economy 26.4mpg; CO2/tax band 245g/km; Rivals Aston Martin DB11 Volante, Mercedes-AMG SL63