Range-topping SUV is short on the styling and performance pizzazz needed to make it a Range Rover Sport-toppling style icon, although it's an accomplished luxury car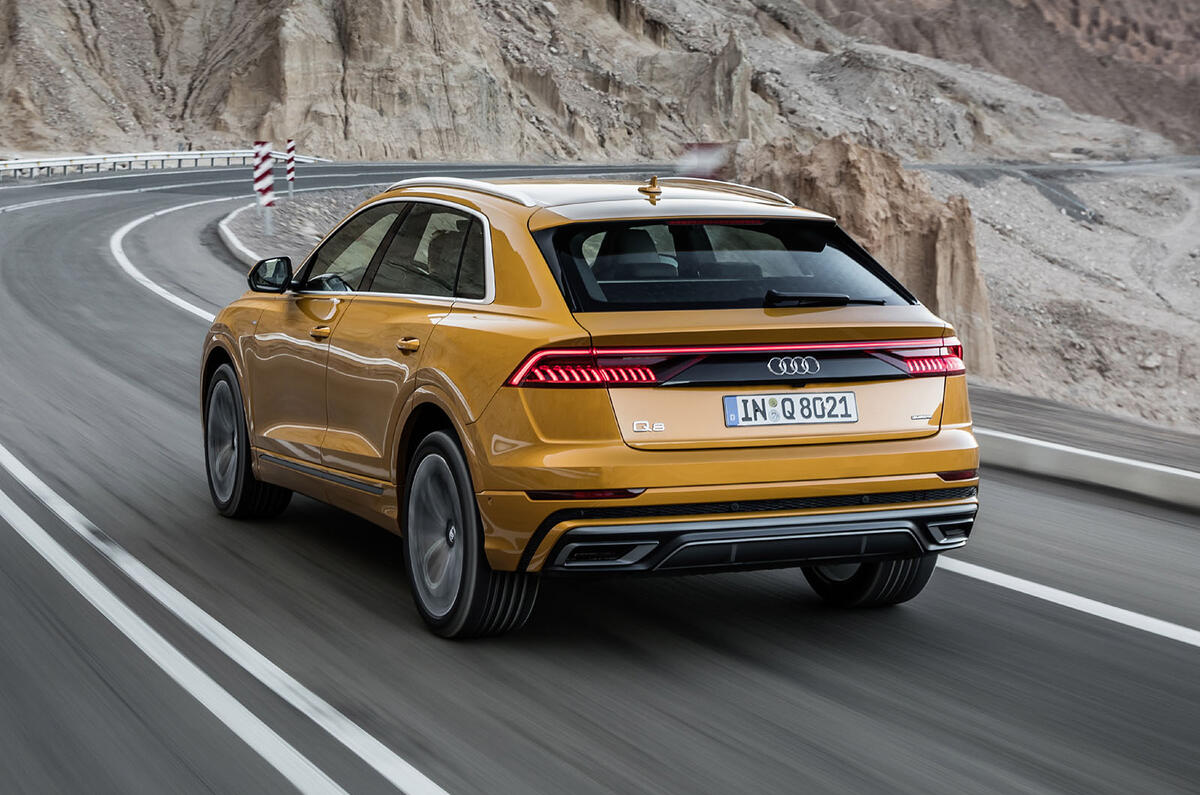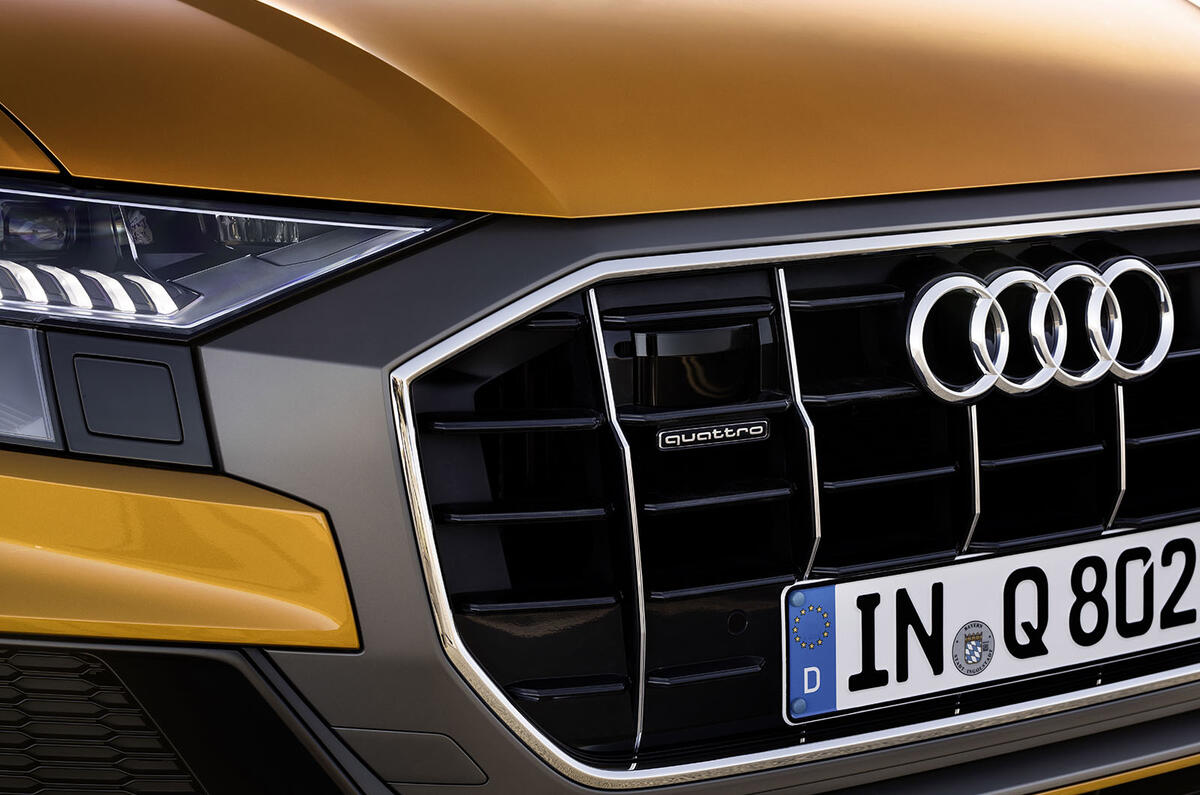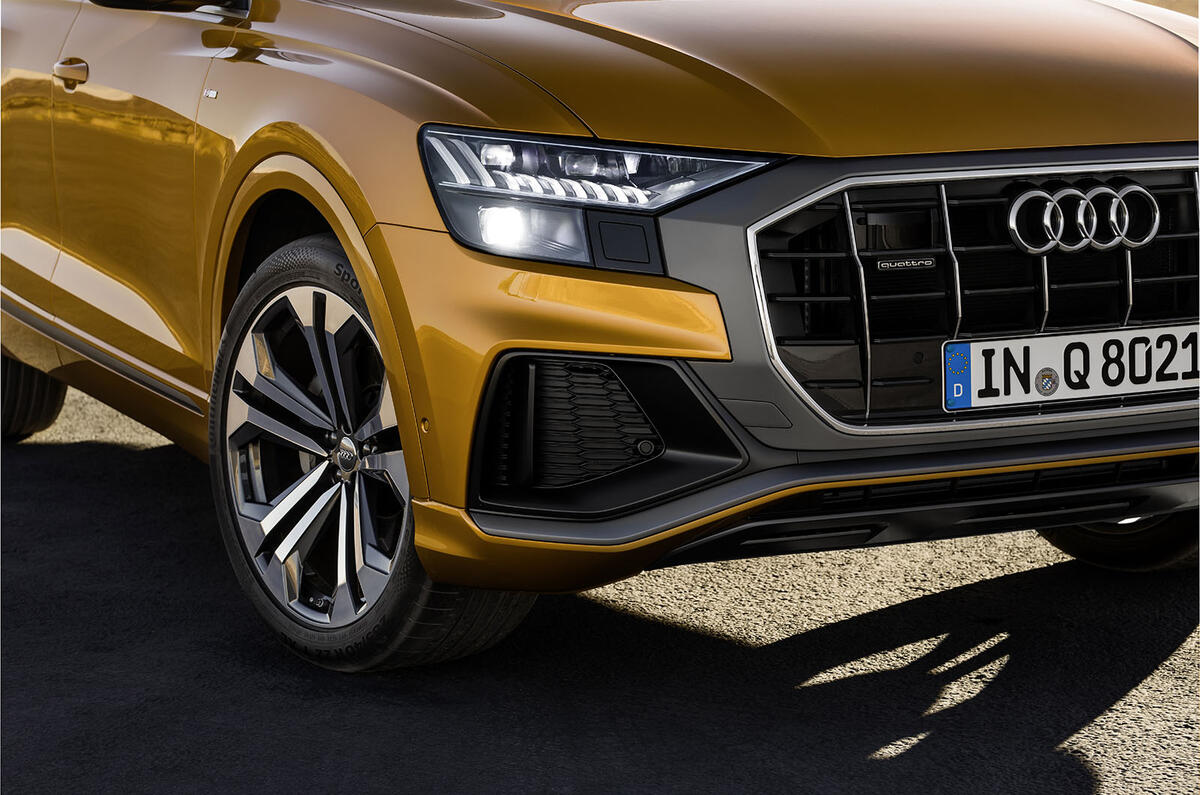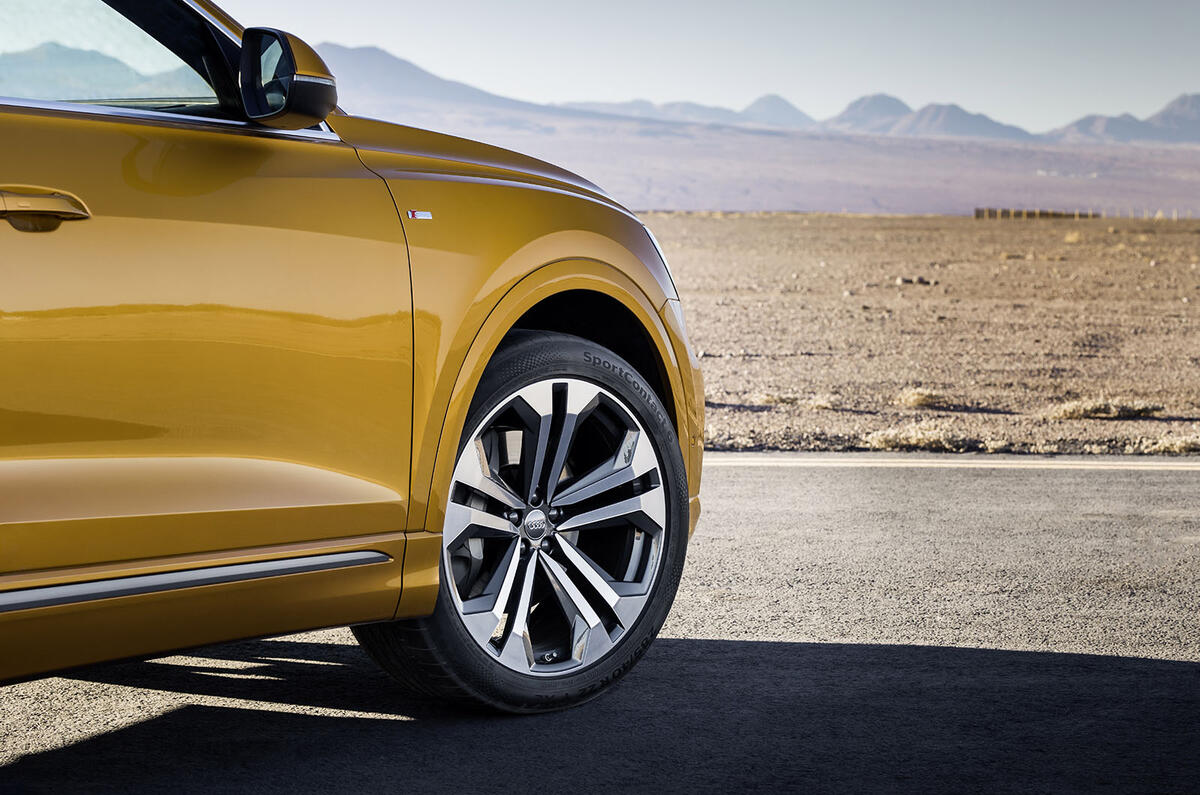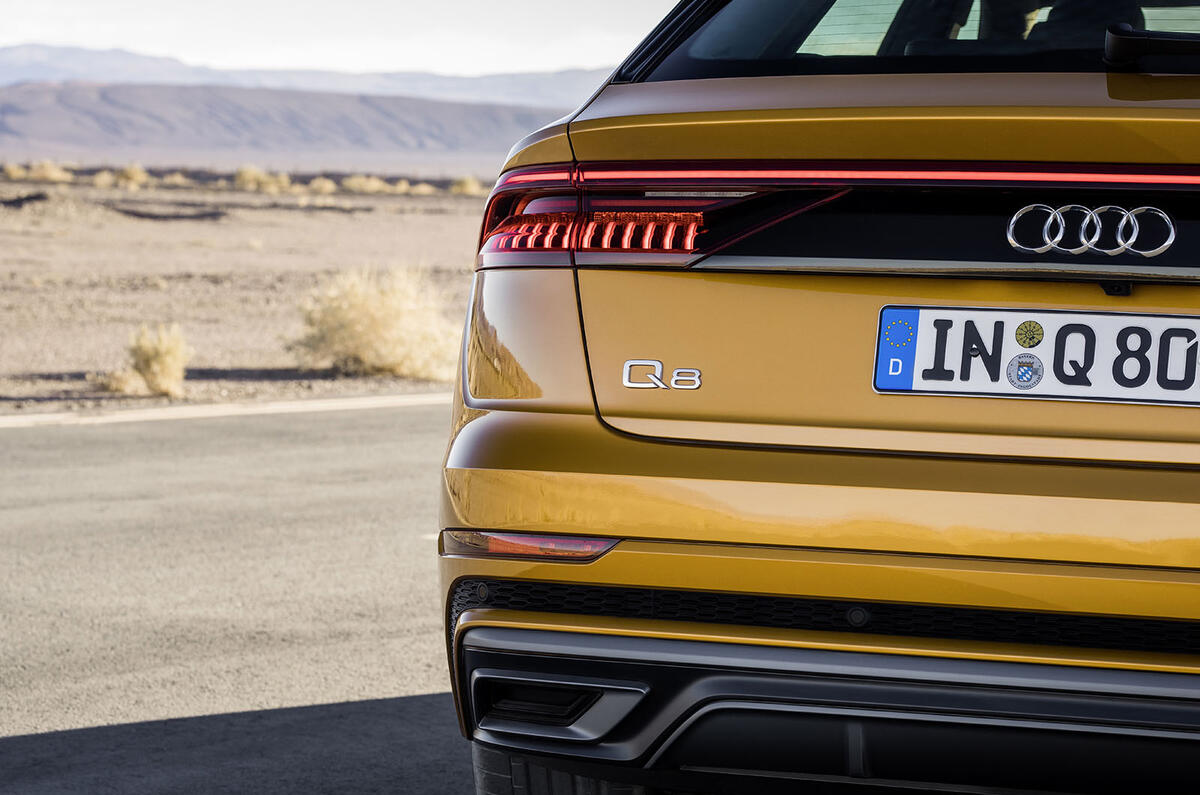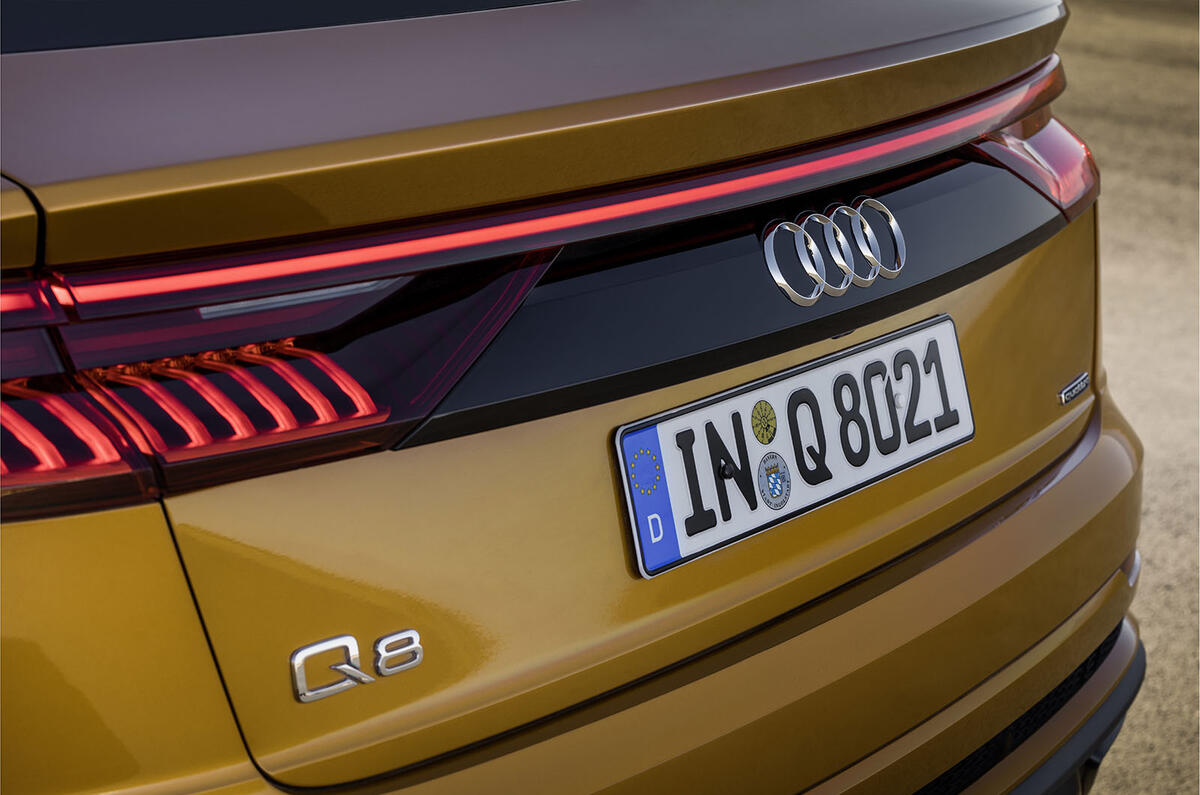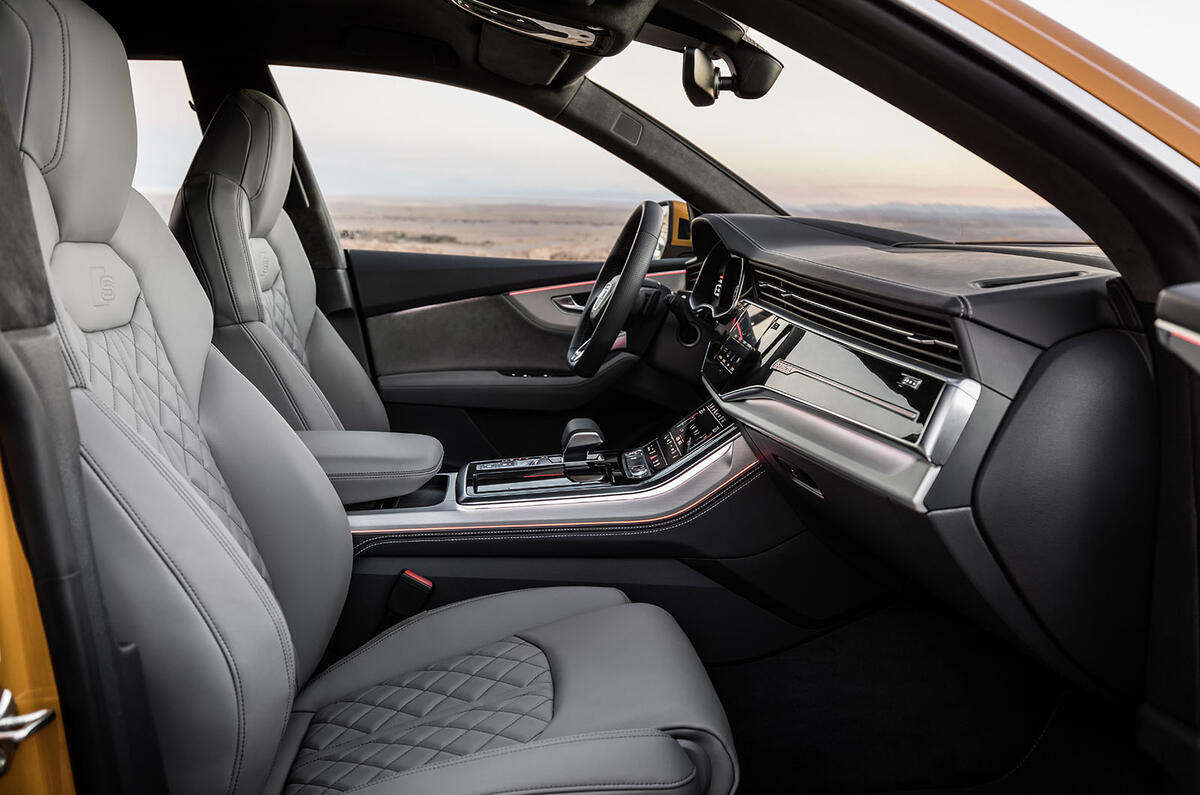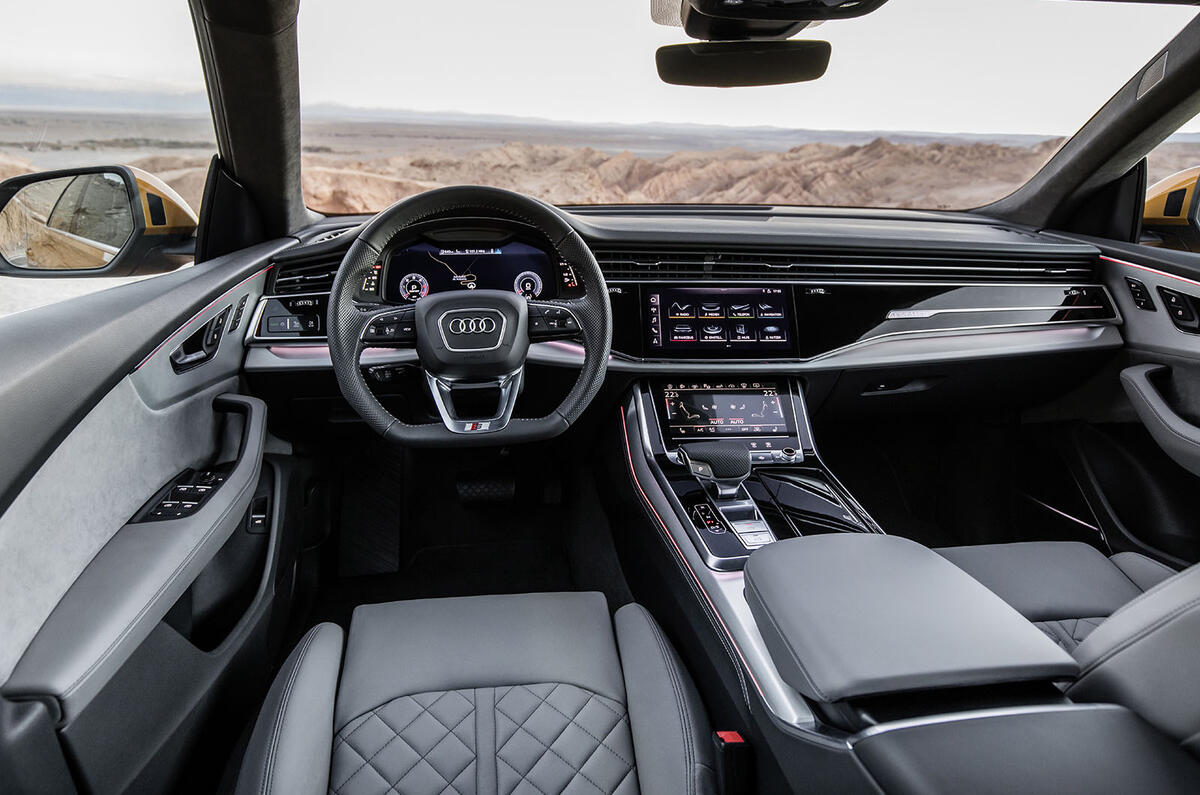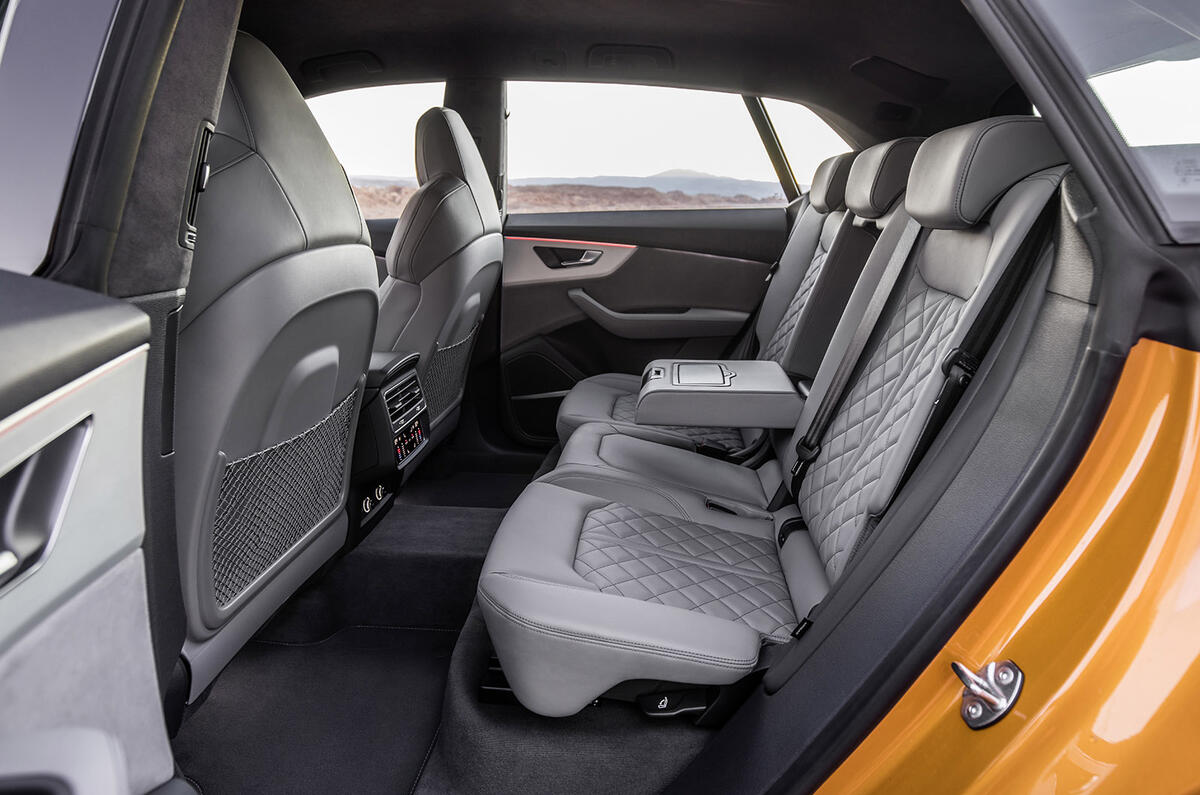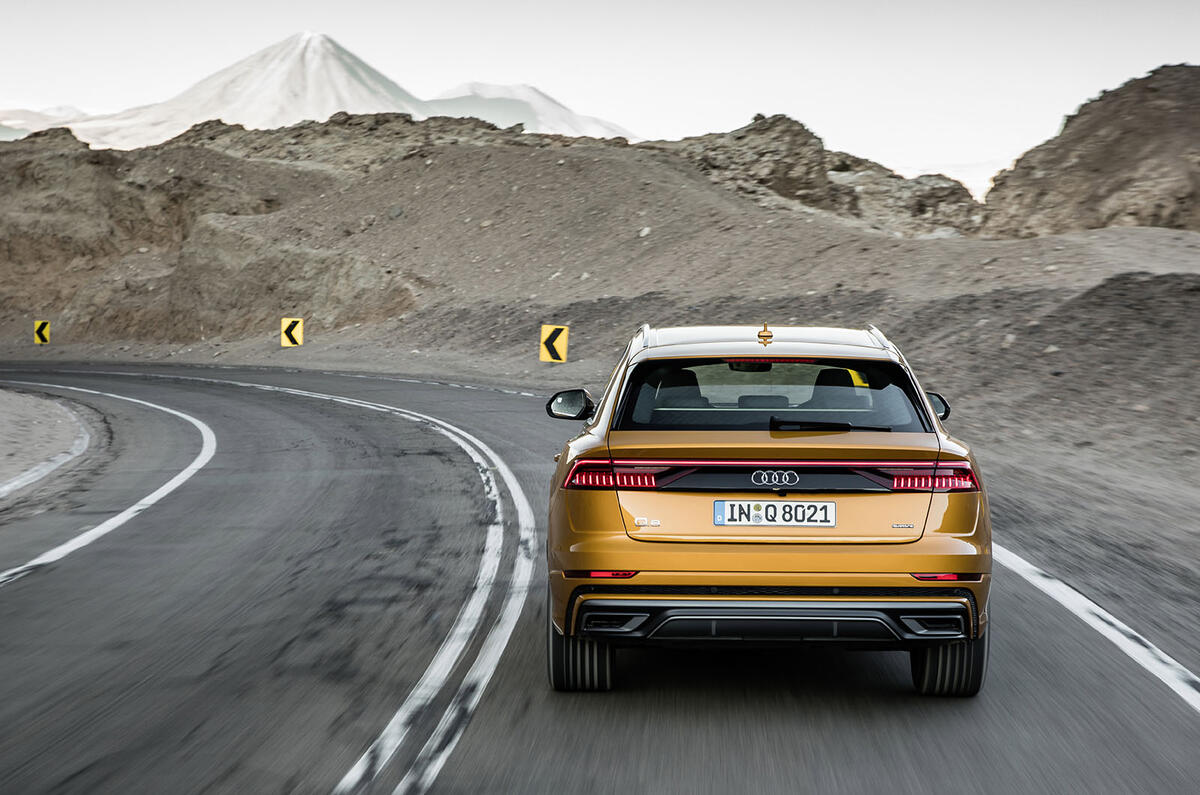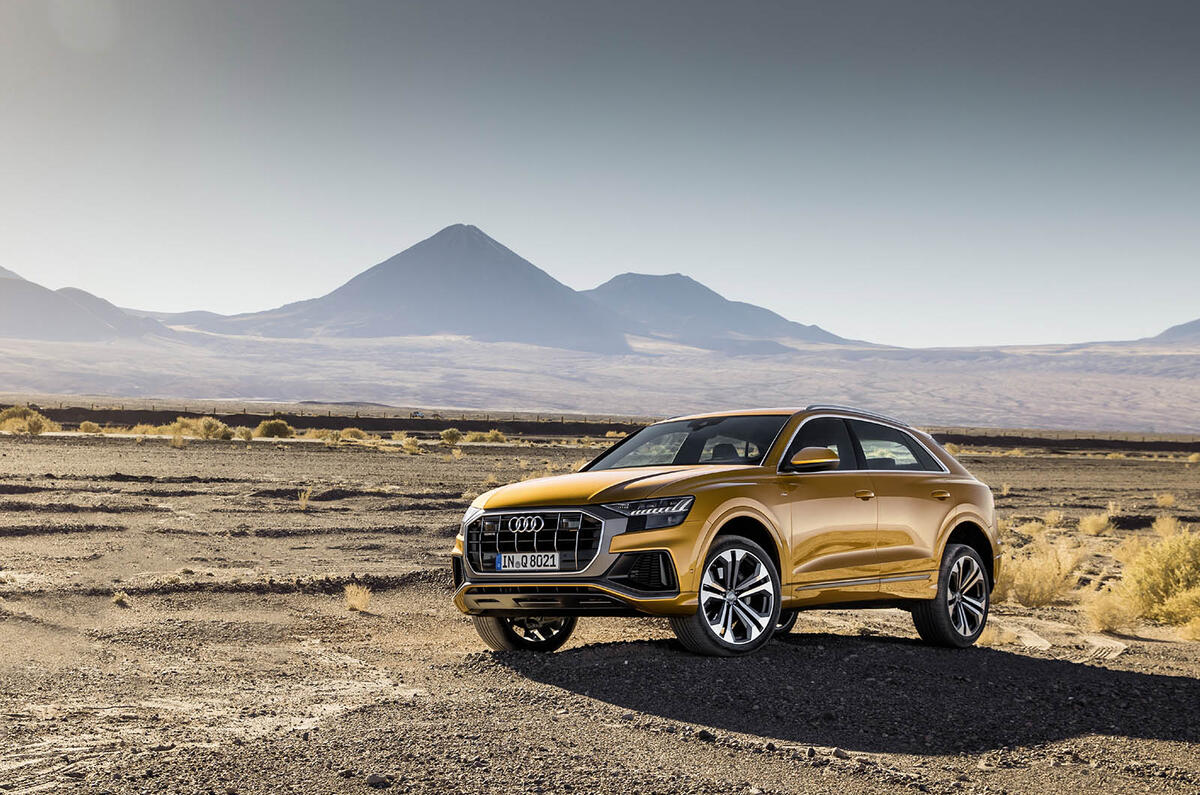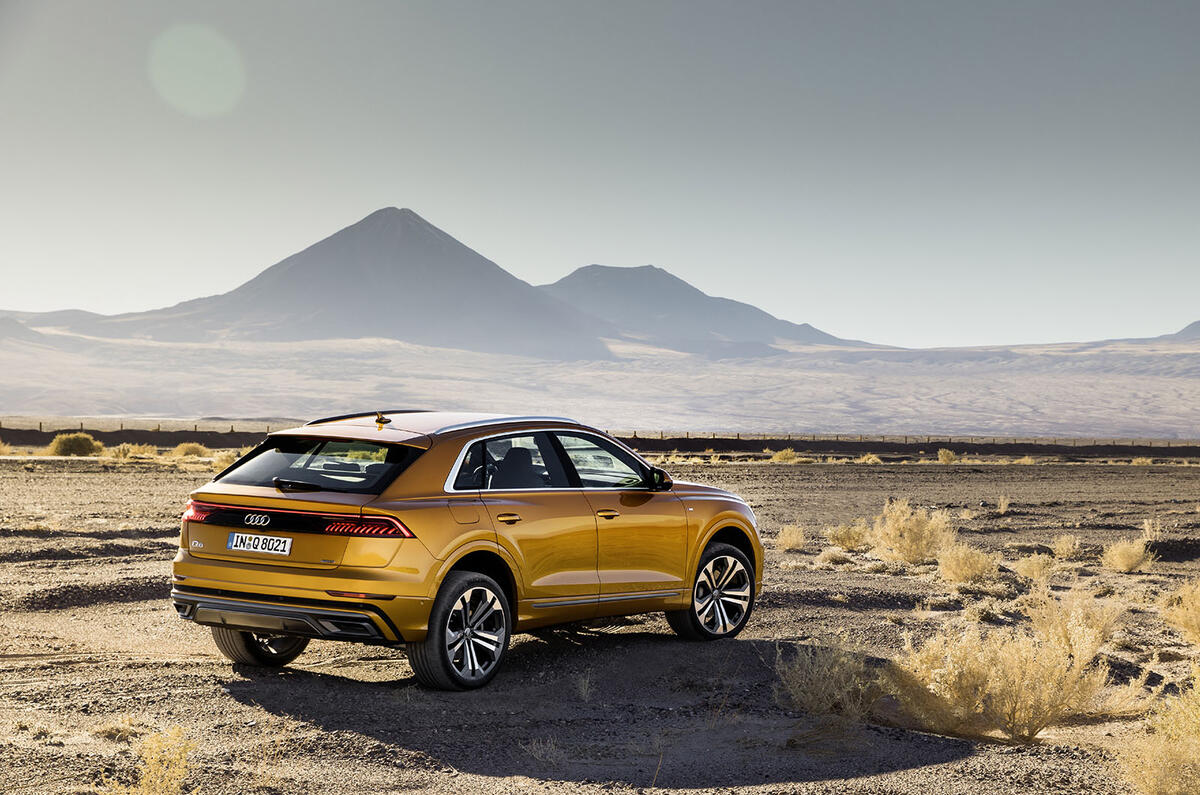 Range-topping SUV is short on the styling and performance pizzazz needed to make it a Range Rover Sport-toppling style icon, although it's an accomplished luxur
What is it?
The Audi Q8 is Ingolstadt's answer to the BMW X6 SUV-cum-coupé– the BMW having turned 10 years old this year. Yup: like it or loathe it, the original German 'sports activity coupé' is still here. Back in 2008, there was much doubt in car hackery circles about how many buyers would be ready to pay a premium for a slightly less practical X5, made only very debatably better-looking and more interesting to drive – if at all. The answer, we predicted, couldn't possibly be very many; amusingly enough, it turned out to be quite a lot.
And so, as BMW homes in on half a million global X6 sales in the car's first decade, what chance of similar success should we give the new Audi Q8? The Audi has marginally more distinguishing features than the X6 had compared with the conventional SUV on which it was based. And yet, after our first taste of it, I can't say that it strikes me as much more or less than a Q7 made a bit better-looking, a bit less practical and a bit more interesting to drive. Less the bold new-groove Audi passenger car flagship model for 21st century tastes, then, and rather more another 'Russian doll' Q-car for the pile, dare I suggest.
The Q8 is the sixth Volkswagen Group luxury SUV in three years built on the MLB-Evo platform. Like the Audi Q7, Porsche Cayenne and VW Touareg, it'll be built in Bratislava, Slovakia, and it shares the same wheelbase and overall cabin width as the Q7. Outwardly, the car bears more than a passing resemblance to the Lamborghini Urus, and not by chance. Audi's Q8 project actually started before Lamborghini committed to making the Urus but, because Lamborghini wasn't held up by the need to negotiate space on that busy Bratislava production line, Sant'Agata managed to beat Ingolstadt into production with its rakish SUV.
The Q8 will go on sale in the UK this summer but, until next year at least, will be on offer with only one engine: Audi's 282bhp 3.0-litre V6 diesel, badged '50 TDI'. Although it's integrated with a 48-volt electrical architecture, an extra-large lithium ion battery and an extra-powerful engine starter-generator alternator (the combination of which now constitutes 'mild hybrid' powertrain status in Audi's technical lexicon), that's clearly not the kind of engine that's likely to tempt performance SUV buyers out of their higher-end Cayennes, Range Rover Sports and X5s or X6s.
However, next year a turbocharged 3.0-litre V6 petrol '55 TFSI' version, with 335bhp, will definitely join the range. And after that, who knows? Well, you do, if you saw the spy shots of the RS Q8 prototype that appeared on our news pages a few weeks ago.
All UK-bound Q8s will get height-adjustable, sports-tuned adaptive air suspension and proper centre diff-based, torque-vectoring quattro four-wheel drive, to which you can add four-wheel steering if you so desire. When asked why they left off the 48-volt active anti-roll bars that have featured so prominently on SUVs related to the Q8 (not least the SQ7), Audi's product managers claimed that, because of the Q8's lower roofline and wider tracks, active roll control was deemed to be unnecessary. When the RS version finally appears, I suspect it might be deemed rather more necessary – but we'll see.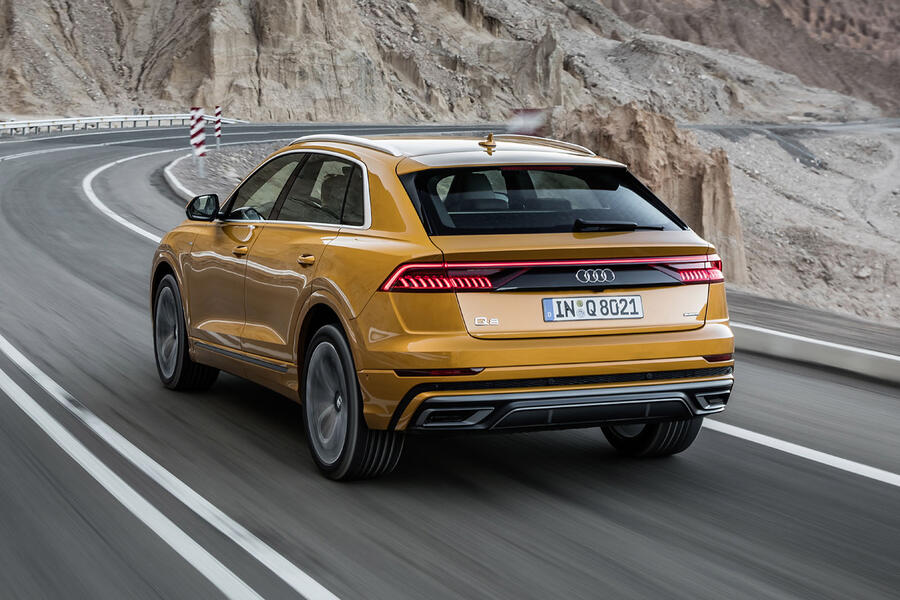 What's it like?
At the Q8's press launch in the Chile earlier this month, Audi chief exterior designer Frank Lamberty went to great lengths to illustrate all the ways his team had differentiated the Q8 from its sister car. His presentation involved VR headsets and superimposed 3D graphics, showing very clearly how much lower the Q8's roofline and bonnet line are than the Q7's, how much wider and more prominent its 'single-frame' grille is, how much fuller and more aggressive its wheel arch flares are, how much shorter its rear overhang is and how much 'faster' the angle of its rear window is. All well and good.
But stand back and stare at the Q8 and, while you perhaps ought to have seen something of a design landmark unrestricted by the usual Audi styling conventions, what you actually see is another familiar SUV. Sure, it's a broadly handsome and desirable car – especially so for its frameless doors, and perhaps in spite of that thrusting octagonal monolith of a grille – but, unlike the original TT and A5 coupé, the Q8 is plainly not one of Audi's design smash hits. The Q2 is, in my eyes, a much better-looking car.
But while the Q8 isn't quite the Porsche Cayenne Turbo or Range Rover Sport SVR-level steroidal performance machine you might have imagined it might be – at least, not yet – it's still every bit as plush, pleasant, comfy and luxurious as any top-level SUV you could hope to own.
Unlike in some of its style-conscious SUV rivals, you'll find plenty of passenger space even for taller adults in both of the Q8's rows of seats. There's no denying that your sense of space onboard suffers a bit as a result of the extra 'tumblehome' on those side windows and the lower roofline above your head, though.
If I were buying a Q8 to regularly carry older, taller teenagers and adults as passengers, I'd certainly have it without a panoramic sunroof. But I wouldn't be put off buying one at all for reasons of space. Unless you've a need for a third row of seats, there would surely be few practical purposes to which you'd want to put a big SUV that a Q8 couldn't serve – including carrying three adults across the back seats as and when you had to. The car's boot is huge.
Up front, what separates the Q8 from the Q7 primarily is the former's adoption of Audi's split-level 'MMI Touch' touchscreen infotainment consoles – the same you'll find in the current A8, A7and new A6. While you might find the idea of two landscape-oriented touchscreens on the car's centre stack distracting in principle, they're not so much so in practice, because Audi has been very clever with the provision of shortcut keys on both displays. You're therefore seldom more than one prod away from the menu screen you're looking for, and you can also arrange the home screen to have all the functions you use most regularly.
Dead in front of you, meanwhile, is Audi's fully digital Virtual Cockpit instrument panel, and all around you is evidence of the undisputed mastery at deploying upmarket cabin materials that Audi has demonstrated so often in its latest big cars. Such a precisely finished, immaculate and expensive-looking dashboard can attract few criticisms, except that if you don't go a bundle on high-gloss piano black trim, the Q8 might not be for you. Then again, there's gloss black and there's Audi gloss black…
On the move, the Q8 has the capacity to be almost as smooth, comfortable and easy-going as its Q7 sibling, its Comfort driving mode making for cushioned ride isolation that wants for little except on really uneven surfaces. Here, the engine's remarkable refinement and the cabin's excellent sealing (suffering nothing for the frameless fit of those doors) make the Q8 a typically demure, low-effort cruiser.
But I don't think I'd drive it like that – at least, not much. Because the Q8's mission is surely to bring a dose of handling poise and driver involvement to the big Audi SUV party beyond the abilities of its sturdier sibling. And, without ever really making your eyes widen with surprise, it does that well – well enough, certainly, for those who want the occasional brush with excitement but more often will just want the Q8 to act the consummate luxury conveyance.
In Dynamic mode, the car's steering takes on plenty of weight, its suspension firms up to a taut but not bothersome level, and (assuming you've remembered to have it fitted, as our test car had) its four-wheel steering system does its best to enliven the car's handling. The car changes direction keenly, and although it doesn't swivel underneath you like the Cayenne can, it has the abundant lateral grip and mid-corner stability you expect of a fast Audi.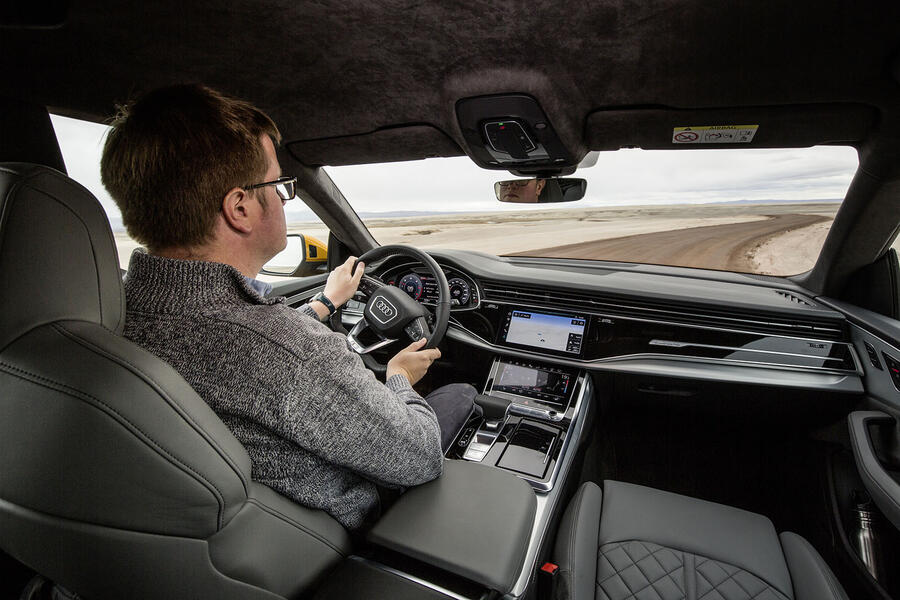 Should I buy one?
If you like big luxury cars, and big Audi SUVs in particular, perhaps you should buy one – eventually. But I'm not sure now's the right moment.
Because even as it is, the Q8's chassis is ready for more than 282bhp – and, I suspect, more than 335bhp as well. And until more alluring performance engines are added to the range, the car's appeal as a top-level SUV won't be fully realised, and its ability to take its owner a step beyond the driving experience of a Q7, as it really ought to, will remain in question, at least to this tester.
So the best is probably yet to come from the Q8. For the moment, although it's not short on admirable qualities, it feels a little bit like a 'by the numbers' effort, when it really ought to have been the sort of flagship dreamboat SUV to breathe even more life into the brand.
Audi Q8 50 TDI quattro S line 
Where San Pedro de Atacama, Chile Price £65,000 (tbc) On sale Summer Engine V6, 2967cc, diesel Power 282bhp at 3500-4000rpm Torque 442lb ft at 2250-3250rpm Gearbox 8-spd automatic Kerb weight 2145kg (DIN) Top speed 144mph 0-62mph 6.3sec Fuel economy tbc CO2 tbc Rivals BMW X6 xDrive30d M Sport, Mercedes GLE 350d 4Matic